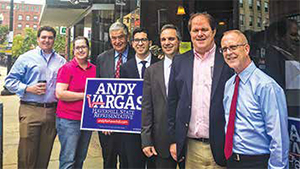 On Tuesday's October 11th, much-anticipated primary election for the Democratic nominee for State Representative, Third Essex District, City Councilor Andy Vargas won in a decided victory over his opponent, School Committee memberPaul Magliocchetti. The election results were 62 to 38 in Andy Vargas's favor, with 13 out of 14 precincts choosing Vargas as the nominee.
Volunteers for Andy Vargas knocked on close to 3,000 doors during the last weekend leading up to the election, and were making calls to encourage residents to vote up until the final minutes before the polls closed at 8:00pm. The grassroots effort drew praise from Mayor Jim Fiorentini, who endorsed Councilor Vargas and applauded what he called "the best campaign" he's seen "in many years in politics." Addressing a crowded room at the victory part at the Barking Dog in downtown Haverhill, he added, "Andy Vargas has the best ground game I've seen in a long time."
At the next morning's Unity Breakfast, hosted by the Haverhill Democratic Committee, Democrats from both the Vargas and Magliocchetti campaigns pledged to work together toward the united goal of winning the November 7th general election.
Councilor Andy Vargas on his victory: "I thank Paul for a well-fought race that showcased a variety of solutions for addressing important issues in Haverhill. He and his supporters worked very hard and that's a good thing for our democracy. I look forward to continuing to have lively discussions on how we can progress as a city. I also look forward to garnering support behind the core values of this campaign: economic opportunity, investment in education, access to quality health care and support for public safety.
Whether you voted for me, for Paul, or for a Republican candidate — we are on a mission to best represent all of Haverhill."
On Nov. 7, Vargas general election opponent will be School Committeeman Shaun Toohey, who ran unopposed in the Republican Primary, receiving only 499 votes.