PUBLISHED ON EDITION NO. »
350L | 12/8/2010
March United for Peace
Singing hymns and carrying signs calling for peace in Lawrence, a group of about 200 people, defiant of the cold weather, gathered at Campagnone Common at the corner of Common with Jackson Street.

Around 1:00 PM, they started a march that took them up Essex Street to Broadway, where they made a stop to pray, continuing later on along Broadway.

At the corner of Haverhill and Broadway, they stopped a second time and several church officials spoke, among them, Rose Marie Baxton, President of Merrimack Valley Project, calling for the end of violence in Lawrence.

Participants continued walking through Broadway and then turned onto Daisy, Myrtle and Lawrence streets, ending at Hayden Schofield Playground for a final prayer.

The march, which started with an estimate of 200 participants, by the time it reached Broadway, it had grown to close to 700 participants. Along Broadway more people keep joining the marchers.

Worried by the escalating violence the city is facing, Deiby De Jesus, a member of Ebenezer Church, organized the march with the help of his pastor, the Rev. Victor Jarvis, as well as other pastors and members of other churches in the city.

Lawrence Mayor William Lantigua was very grateful to participate. "I thank the organizers for inviting me. I am glad that churches are helping me spread the message against violence," he said. "Although the temperature was cold, people were motivated to participate in the peace march."

When Lantigua saw some of the relatives who could not speak seized with emotion, he said, "My deepest condolences to those relatives. We are doing everything possible to eradicate violence but we will only succeed if the community at large begins to cooperate letting us know where they are doing business such as selling illegal drugs. Although not all those who died were involved in drugs, they were also victims of violence," said Mayor Lantigua.

"What I enjoyed the most was the involvement of the people," said Council President Frank Moran who also walked all the way. The churches want to work with the council and the administration to improve the problem. The ministers always send that message to their parishioners in churches but now they are bringing it to the community," concluded Mr. Moran.

Organizer of the march will have a follow up public forum on December 15 at 6:00PM at the Lawrence Public Library.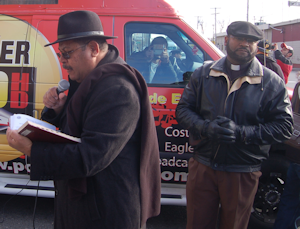 Pastor Rafael Blanco of Christian Church of Getsemani, reads a passage from the Sacred Book to the marchers at the intersection of Essex and Broadway. Father Joel Almono, of Grace Episcopal Church stands behind Rev. Blanco. Power 800 mobile unit offered audio to the marchers.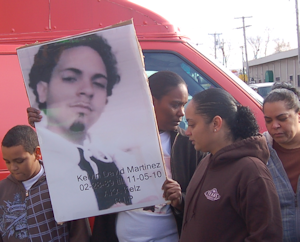 Anny Arroyo, walked with a picture of her brother Kelvin David Martinez, killed on November 5, 2010 in his backyard, while walking his dog.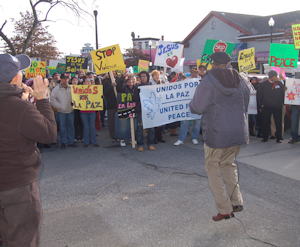 Jumping for peace, Reverend Victor Jarvis, Pastor of Ebenezer Church kept the people motivated along the route.
ADVERTISEMENT