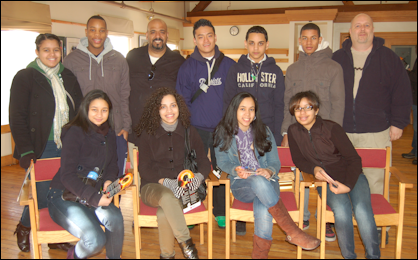 By Dalia Díaz
daliadiaz@rumbonews.com

A group of citizens got together at Heritage State Park in Lawrence for the annual Fire Prevention Outreach Day of Service in honor of Dr. Martin Luther King, Jr. Among them, students from the Performing and Fine Arts High School, lead by Professor Gerson Colon and Jeff Todd who teaches math in the International High School.

"This year we were able to deliver 5,068 informational door hangers to high fire risk neighborhoods in Lawrence," said Mr. Colon after they walked through the assigned area placing door hangers with fire safety tips in English and Spanish.

"This is the third year that I have done this service project in Lawrence. I am a representative of Hope Worldwide who partners with the American Red Cross for this and other service projects," concluded Mr. Colon.