What old neighborhood?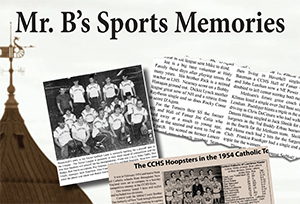 One spring like day recently I decided to drive through my boyhood area in So Lawrence.  I was prodded on by seeing so many changes in a lot of areas.  I'm sure many of you will share some melancholy thoughts.  I may be bouncing around so please bear with me.  I did live in a few different areas of Southie and so well here goes.
As I drove down Parker St. at the corner of Salem St. it dawned on me that there was no longer a convent on the corner, formerly living quarters for the Catholic Nuns of St. Patrick's Church and school.  It is now a place remodeled by volunteers to service the needy as homes for their families.
While on that corner I became more aware that there was no longer a grammar school across the street it is now a Catholic Academy.  Gone now for many is the St. Patrick's girls High School.  I guess it hit me quickly because my late brother John became the principal of that school when the City of Lawrence rented space from the Church.
Back to the corner of Salem and Parker Sts, across from the former Convent stands an elegant house that used to be a funeral home.
Tripping up Salem St. towards Broadway at the corner of Market St. stood a 3 decker for many years until a new elderly housing complex was built and still stands there.  As I approached B'way at corner of Salem, my brain really kicked as I recalled a bike sales and repair shop called Victor Hugo's there is a variety store there now.
Directly across from Hugo's on B'way and Salem was John
Hart's funeral home. It is still a funeral home under new owners.  Going up B'way towards the O'Leary Bridge (NOTICE I DIDN'T SAY FALLS BRIDGE.)  There have been many changes, Sullivan's Typewriters store is long gone and so is Dean Hardware.  The next among the missing at the corner of Crosby St. is the long-time resident Fluet's Market that sold everything from ice cream to kerosene to heat your home, I'm not kidding some of us had to lug jugs of the kerosene from a pump in the store to our homes.
Next was the Engine 3 fire station where in the summer he old-time jakes like Roscoe Johnson and Doc Phalen would sit and wow us kids with some long and maybe not so true yarns.  On plot days they would stick a hose out the Crosby side window to give us street kids a heat break.
Right next door was a garage that at that time was a Table Talk pie distribution place.  Yes, the famous pie company.  It later became A-Line tools.
Further down the street a new bar called Bucko's Tavern opened and employed Shorty Pawlick for many years; and on the corner of Shattuck, a bar opened called the Calumet Club which was run by legendary Gene Mc Carthy and after his death his son in law Steve Borys.  Bucko's moved across the street and later got an offer and Bucko's was no more and is now Domino's Pizza.
The Calumet Club was where the Apollo Plumbers is today. They featured Emma, Loraine, and Freddie and featured tunes made famous by the big singers of the days.  A furniture store used to be where Biders is today and was one of the first in the City to sell TVs black and white, of course.  Some were round screens.  In those days many of the great heavyweight champ Joe Louis's fights were all televised and many crowds stood on the sidewalk outside the store to watch.
Down from where the costume building is now, was Elwood's Diner it was recently the 3 Dogs Diner and has since been sold again.  At one time it was a going concern owned by Joe Elwood and later a police sergeant Ray Morris who lived in So Lawrence.  I like to mention it because my 2 uncles Henry and Danny Benjamin ran it for him for quite a while.
Across the parking lot was a prosperous owned garage/gas station owned by Jimmy Colletta.  In an adjoining cul-de-sac was Malco Electronics owned by a big CCHS and boxing fan Joe Musemara, until recently he sold it and retired.
That my readers, was my trip through my old digs although most of it has been changed and I hope it gave your heart and brain some favorable memories.