The 1955 AM their American Junior Legion Baseball Roster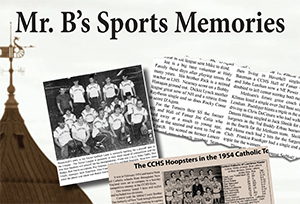 The new American Legion Post #375 has announced their team's roster for this upcoming 1955 season. The Post Commissioner is Edward Guy and the athletic officer is Ralph Wilson.
After a series of tryouts the legendary coach of the youth of the city have made the final decision at this team's city athletes final team to represent the City and the Post in this year's highly competitive match.
Most of these athletes are multi sports stars that have shone brightly for their high school teams. Coach Yule will be assisted by Stanley Kay and Vahey Boyhajien who in other seasons was the public address announcer at Lawrence High's basketball and football games. Lawrence will play in league that is represented by 2 Lynn teams, Methuen, Haverhill, Andover, No Andover and Newburyport.
The following are the players receiving their uniforms: Billy Hickey an out fielding multi-sport speedster who starred at LHS, Alex Sczcapa another blue and white outfielder who now lives in NH. I'll bet he can still hit line drives to this day, Alex's dad the senior was a LHS great. Ralph Bellardo was a real good outfielder for CCHS. Ralph Forgione was another outfielder, and a multi sporter for LHS, he is primarily remembered as the QB who led the Lancers to their first State title in later years later he became a football official. Billy Perry a LHS pitcher that many thought had major league potential. Unfortunately the grim reaper stepped in and took him from us. I'd seen him pitch many times and he was as good as I'd ever seen at that age. Bobby Zolubus was a multi sporter at CCHS a lot of his pals thought hoop was his top sport.
Don Tremblay's name is always brought up in basketball circles when area stars are mentioned. He was without a doubt one of CCHS brightest stars.
Don played 3 sports and excelled in each; people forget that on the gridiron he was named All Scholastic both on offense and defense by all of the Boston newspapers. He later became a fan favorite in fast pitch softball locally. He resides now in Conn and is fighting a tough battle. Dennis DiGennaro, a catcher at LHS will fill that spot with the Legion.
Bobby Chaison of LHS and So Lawrence West was another outfielder. Jim McCarthy of LHS and Prospect Hill was also an outfielder; his nickname was snowshoes. He later played hoop at Merrimack College. George Maroun was an outstanding chiavoneorter for LHS and later played football at Miichigan State. Jack Gage is a LHS baseballer from Tower Hill played the infield. Jack played for the Tower Hill junior league team coached by Big Billy Sullivan of So Lawrence, the father of the Late AD at CCHS, his grandson Chris is now the Headmaster at that school.
A lot of people didn't know that Bill had a secret weapon as his assistant. Yes, a young future successful manager of sports sat and watched and listened, his name Frank Benjamin can you imagine kids like Pat Schiavone, Hank Koza, Gage, and Roger Damphousse might have learned some basics from yours truly? Jack Gage still lives in the area and played softball in the fast pitch league. He's still a gentleman (something he must've picked up from his young coach.)
Bobby Laudani was a gifted team player in all sports, unfortunately he perished in a plane crash on the Potomac one cold wintry day. He played softball for me and I'll never ever forget him and his sense of humor. Biffer Moynihan whose Dad was a great coach at Biffer's School CCHS and Biff is always mentioned with that school's greats in 3 sports. You never met him without his smile unless it was in a game. He left us early while working for the electric company a shocker to all of us who knew him.
Bobby Dion was an infielder who I think played at the Voke School. Horace Coco was selected as a pitcher after having a big season at LHS.
This is the 1955 Legion team ready to strut their stuff on the diamond.