Rededication of the Veterans Building.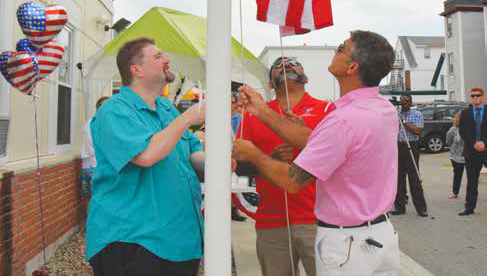 Por Alberto Surís
The Veterans Building, located at 34 Parker Street, in Lawrence, was rededicated on Wednesday, July 12th in memory of the late Executive Director, Jim Gaines.
Karen Sawyer Conard, President of the Board of Housing Support, Inc. introduced Board Members Dottie LaFrance and Bob Jones, the new Executive Director, Paula Newcomb as well as former State Senator Nick Costello; Ms. June Black, District Director and Mr. Ken Christopher, Veterans and Military Liaison from the Office of Congresswoman Niki Tsongas, in attendance.
The Housing Development Corporation has a mission of providing shelter, housing and related support services to low income, homeless and handicapped individuals and families. "We've been around for 27 years, and one of our founding fathers, former State Senator Nick Costello, is here with us today! We have developed ten residential projects with 70 units throughout Lawrence, Haverhill and Amesbury. We are here to honor Jim Gaines, who served as our Executive Director for 25 years until he left us on September 27, 2016," said Sawyer Conard.
The building was completed in 2015 and includes 10 apartments for Veterans and on this day it was to be rededicated in the memory of Jim Gaines. Ms. Sawyer Conard read an excerpt from Jim's obituary, which was written by his son, Michael.
"Ernest James (Jim) Gaines was a proud Navy veteran and used the resources provided by his service to help achieve a business degree from Merrimack College followed by a master of Business from Suffolk University.
He started his colorful work life at Raytheon in nearby Andover, but soon decided to serve the community, which would become a recurring theme throughout his life. Working for his adopted hometown of Newburyport in several different roles, Jim eventually started his own business, turning a former school into new homes for several families.
Returning to his passion to serve others, he joined forces with then Mayor Edward Molin to start Housing Support, Inc. The goal at the time was to provide support for a large, diverse group, including recovering alcohol and drug abuse, battered women with children and returning veterans. He lived a full, inspiring life; his generosity was limitless and kindness paramount.
Jim Gaines truly left a mark on this world that will live on in the hearts and minds of everyone who ever knew him," ended Sawyer Conard.
The flag raised was provided by the Honorable Congresswoman Niki Tsongas. This flag of the United States of America, flown over the US Capitol building on Veterans Day, November 11th, 2011. It is a lasting symbol of American liberty and freedom, and is presented in recognition of the courageous service to our country by our veterans.