AG sees firsthand benefits of Healthy Summer Youth Jobs Grant Program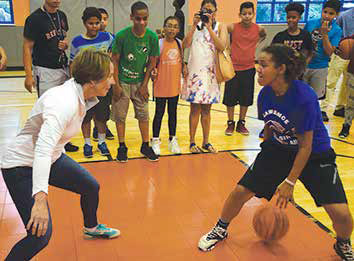 On a recent visit to see her office's Healthy Summer Youth Jobs Grant Program at work, Attorney General Maura Healey showed club kids that she still has game on the basketball court, as well as inside a courtroom.
One of 70 organizations statewide which received grant funding from the Massachusetts Office of the Attorney General, the club used its $3,000 gift to employ two local teens for the summer to help run its sports and recreation activities.
Luis Santana, a sophomore at Northern Essex Community College, says he is "grateful every day" to work at the club. "It's a great place to bring kids," he adds.
Shayla Burgos, a club alumna who attended Central Catholic High School and Camp Marist on scholarships coordinated by BGCL, is a junior majoring in criminal justice at Johnson & Wales University with the goal of becoming a defense attorney.
"I grew up at the club, so it means everything to work here," she says. "Seeing how the Attorney General's Office gives back is a model for me after I get my own law career going, so I can give back, too."
Prior to becoming the state's top law enforcement official, Attorney General Healey was captain of the women's basketball team at Harvard College, played on a professional circuit in Austria, and was inducted into the New England Basketball Hall of Fame in 2006. At BGCL, the former point guard shot three-pointers and demonstrated her rebounding, dribbling, and basketball-spinning skills in one-on-one encounters with club kids including 14-year-old Victoria T.
After showing off her crayon-colored poster of smiling marshmallows taped to the art room wall, 6-year-old club kid Ava R. held Attorney General Healey's hand during a VIP tour which also included Lawrence Mayor and club alumnus Daniel Rivera, state Rep. Frank Moran, and City Councilor Jeovanny Rodriguez.
"She's ready to run," Attorney General Healey said of her young friend. If Ava does grow up to become a politician, she will be following in the footsteps of Mayor Rivera, plus four other alumni who have served as mayor in their respective communities: Michael Sullivan and Kevin Sullivan in Lawrence, and Bill Manzi and Stephen Zanni in Methuen.