From My Corner: September 8, 2017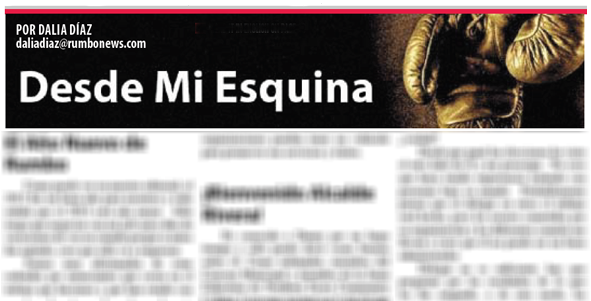 Crime and violence
It will not surprise you learning that I have my own thoughts about the press conference held at Grace Episcopal Church with Mayor Dan Rivera and Police Chief James Fitzpatrick, along with several religious personalities.
Members of the press were invited to learn about the reasons bringing them together and the development since their original meeting in March and, as you can see on page 7, the statement issued by Father Joel Almonó describes what they have accomplished to this point.
First, there's a discrepancy at the very beginning. It says that the original meeting in March was called by the mayor in his office, asking for their help, but Father Almonó insists that it was the pastors' initiative setting up this program.
Since that first meeting, and during the summer, a series of talks were scheduled at different churches with families and any member of their congregation interested on the topics being discussed. The time for a press conference announcing the series of seminars should have been during the month of July because the first one was held on July 24-28.
According to the list offered to us, there were others on July 29 and August 3, with several more planned through December when they will compile the results of their participation. If they wanted to reach out to the community, how come they were not advertised earlier? People had no idea that these meetings were taking place. For example, I was asked to attend the one held at Grace Episcopal Church on July 29. The topic was on Consequences of Domestic Violence and walked out before it started when I learned that it was for the benefit of the Sueños Basketball team members and their parents. Later, I received pictures showing about 30 attendees having lunch, not 75 as the press release states.
Those meetings in churches are accomplishing nothing. They are appropriate as preventive measures but they are not the target we need to reach – if they really mean it.
Originally, the mayor had asked for ideas on how to control the violence in the city. This time he and the police chief blamed everything on the proliferation of the opioids crisis. If they know that to be the cause of all ills, how come they have not done more to combat the problem?
If the homeless situation is so dire, also leading to drug use, what had he done to eradicate their presence from the city? Other cities do not have that problem. How about getting together with those city officials to find out what they are doing right? Then, DO IT! Instead, he hired a Director of Homeless Services whose only achievement so far has been finding out how many organizations are serving them to assure them those benefits. That's not what we expected from that position.
The mayor and police chief have the budget, the knowhow and the manpower to fix our problems. They don't do it because of its entertainment value: While we are concerned about crime and violence in Lawrence, we can't concentrate on the illegal behavior and actions taken within city government, which includes the mayor and councilors. If you read this column on a regular basis, you are well aware of what they are.
But, Primary Elections are three weeks away and he must pretend that he cares by doing something for us. This was nothing more than a political move in time to influence people's votes. Mayor Rivera bragged about police arrests during this summer (May 30, 45 arrests; July 27, 47 arrests; August 9, 32 arrests; August 24, 34 arrests) but what they failed to mention was the cooperation they got from the Sheriff's office. The three-month program was so successful that the city asked them to extend it through Labor Day.
According to www.neighborhoodscout.com, your chances of becoming a victim of a violent crime in Lawrence is 1 in 116, while in Massachusetts, the average is 1 in 236. Your chances of becoming a victim of a property crime in Lawrence are 1 in 42 and in Massachusetts are 1 in 59. Crimes per square mile are: 348 in Lawrence and 27 in Massachusetts.
There have been criticisms about not inviting other candidates for office to be present at the press conference. As it says at the beginning, this was orchestrated by the mayor as a government maneuver that didn't involve public participation. On this issue, I believe the critics are wrong.
Something else that concerned me was that only Spanish-speaking pastors and priests were there. Is the mayor implying that only members of their churches are responsible for the violence in Lawrence? There was no participation from St. Patrick's Church, the Vietnamese Temple located at Margin St. or any other language group.
Father Almonó said on the radio that the priest from St. Patrick's attended the March meeting only. Additionally, he said something very troubling: "We are echoing what the press says about us." Apparently, he is blaming Rumbo for informing the public instead of covering up the news the way the local media, Boston newspapers, radio and television stations, Univision and Telemundo present only the mayor's side of things, hiding the high crime rate committed here.
We do not "echo" the negative news. We complain that negative news is never covered by any news branch. We see crimes happening in our city that are never reported by the police. It they don't respond to calls, it never happened.
I believe there's a concerted effort to hide the truth about problems in Lawrence in the media because Father Almono also said on the radio that he doesn't believe what people said about gangs in Lawrence and that this is a terrible city.
I asked Police Chief Fitzpatrick if he noticed the relationship between the spike in crime and violence and the transfer of the Safe and Successful Youth Initiative to the YouthBuild Program when the mayor fired Art McCabe. He denied that but the police is not even keeping track of them as Mr. McCabe used to.
In fact, it was several months after that switch when I wrote (December 8, 2016) about the lack of supervision they were having from the police. They rushed in "an emergency" to place a request on the city council's agenda for the $600,000 allocated by the Justice Department for that purpose. If they "forgot" requesting the funds since June, do you really believe they were being vigilant of those students?
Keeping track on the Disability Commission
There is no doubt that the Disability Commission is going the same route as the Human Rights Commission – it's about to disappear.
They have missed meetings due to the lack of quorum; Chairman Rodriguez has sent the names of two candidates who applied to become Commissioners and the mayor failed to appoint them.
To top it off, they meet in Room 202 and several times they have been locked out thus preventing them from meeting.
Apparently, the mayor doesn't want a vehicle for people to air their complaints in this city.
Keeping up with the Voters' List
I received the most current Voters' List of 8/9/17 and noticed that both Kevin and Lou Ann Clement still registered at 1 Thomas Road. They sold their home to Mayor Dan Rivera in May of 2016 and have not made a change of address in over one year. Apparently they did not return the 2017 City Census because they appear as "Inactive" and consequently will have to show ID at the polls to verify they live at 1 Thomas Road in order to vote on September 26th.
I spoke to Joe Quartarone, warden of E-1 at the Robert Frost School to be on the look-out. He said they are always very careful about that.
Guatemalan flag raising
I had the pleasure of attending the flag raising on Guatemalan Independence Day and I was motivated to mention it. This was the most beautiful ceremony I've been to. It was very cultural and we learned a great deal about their country. The costumes were very colorful, the speeches were brief, the food served was stupendous and everything was done in a very classy way.
Congratulations for a job well done.