Help to Puerto Rico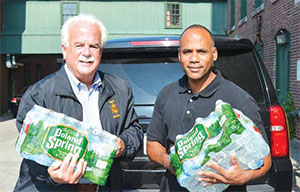 By Alberto Suris
The hurricane winds of Maria, which had just lashed the beautiful island of Puerto Rico, were still blowing, leaving the island paralyzed, when already in Lawrence the citizens were preparing to help as needed.
The first to react, offering his building located at 530 of Broadway, in Lawrence, as he had done on previous occasions was Rafael (Danilito) Guzman. They immediately began to receive help from hundreds of volunteers of all nationalities, needed to sort donated items, such as clothing and food as well as water so much in need.
At the time of writing these notes, on Saturday, October 7, 2017, and according to Deputy Sheriff William Castro, head of the organization to receive and distribute the donations, they had collected:
65 pallets of water, containing between 1500 and 1900 bottles of water each.
100 barrels of 50 gallons containing dry and canned food.
3 pallets of flashlights and batteries for flashlights.
6 pallets of disposable diapers for children.
10 pallets of disposable diapers for adults.
100 pallets (estimated) containing women's and men's clothing, powder and liquid milk for children.
4 pallets of rice of 1500 Lbs. each.
"The National Guard from its headquarters in Worcester was here and took back several trucks full of merchandise, where they will be classified in their warehouse waiting for two aircrafts provided by Governor Charlie Baker that will take it to Puerto Rico," said Deputy Sheriff William Castro.
For those wishing to make cash contributions, you must bring them to Enterprise Bank. Checks should be made out to TSM-Puerto Rico Relief Fund. The account is #787873.