GLFHC Annual Report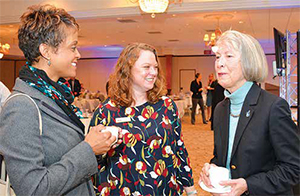 By Alberto Suris
During a breakfast at the Andover Country Club on Tuesday, November 14, John M. Silva, President and CEO of the Greater Lawrence Family Health Center, gave a report to the friends of the Health Center gathered there about the state of the Health Center.
From him as well as Amanda Pears Kelly, National Director of Defense and Civic Participation of the National Association of Community Health Centers, updates were heard on the Health Center and the latest on the health debate and how it affects Community Health Centers at national level.
On each table, breakfast attendees could find printed reports such as the Annual Report 2017 as well as a small booklet by Alex Becker, a student at Merrimack College highlighting the best examples of the work GLFHC does as an organization.