Elks Lodge honors local Veterans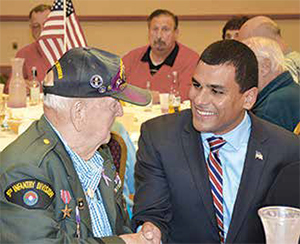 By Alberto Suris
Lawrence Elks Lodge # 65 honored local veterans last Thursday, November 9 with a complimentary dinner that was served by members of the lodge and their spouses to more than 200 guests.
Francisco Urena, Secretary of Veterans Affairs of Massachusetts was the guest speaker. In 1998, after graduating from high school, Urena joined the Marines. In 2001 he was accepted into the Marine Safety Guard Program where he worked as a security guard at the US embassies in Syria and Kyrgyzstan.
Subsequently, Urena was transferred to Iraq, where he served as a tank commander during Operation Iraqi Freedom. During a fight with the insurgents, he was hit by flying crystals and debris, including a piece of scrap that got stuck in his left cheek. Because the surgery to remove the piece could leave a permanent scar, Urena chose not to remove it. He was awarded the Purple Heart for his injury. Urena was honorably discharged in November 2005.
After being discharged, Urena returned to Lawrence, where she volunteered at the Veterans Services Department. In 2007, Michael Sullivan, then mayor of Lawrence, named him Director of the Veterans Services Office. In 2008, Urena was named Director of Veterans Services of the Year, in part for the work he did assisting the family of Alex Jimenez, an army soldier who was captured and killed in Iraq.
On September 8, 2011, Boston Mayor Thomas Menino appointed Urena Commissioner of Veterans Services for the City of Boston. In this position, he oversaw the distribution of more than $3.8 million per year in benefits for more than 700 city veterans.
On January 5, 2015, Governor-elect Charlie Baker announced that Urena would serve as its Secretary of Veterans Services where he oversees services for some 385,000 veterans statewide. He was sworn in by Baker on January 8, 2015, shortly after the governor's inauguration.
Urena resides in East Boston and owns a property in Lawrence where his mother Ramona Montilla resides. In August 2014 he married Jennifer Siegler. He holds degrees from Northern Essex Community College, the University of Massachusetts Lowell and the University of Massachusetts Boston.