OBITUARY – Frank Benjamin:1934 – 2018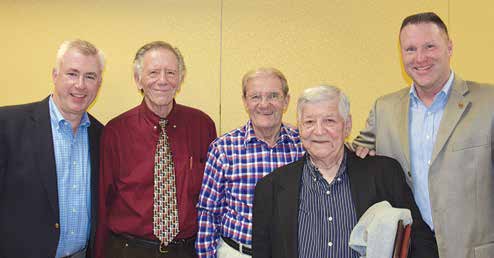 At the time of his passing, Mr. B was in the process of writing his own obituary. When his son Bill found it, he sent it to us certain that he was not finished with it.
Born Oct 9, 1934 in Lawrence to Ruth Benjamin, had two brothers Dick and John.
As a young man he became an employee of the New England Power Co. and soon became an overhead lineman, traveling to many parts of New England in this job. A member and retiree of the IBEW union he became a traveling contractor in this trade through the whole eastern corridor, and worked many ice storms and hurricanes. His Trade took him to the St. Lawrence Seaway, Conn, New Jersey, RI, White Plains NY, Florida and the Seabrook nuclear plant. He was a long time Union Steward for Local #326 of the IBEW.
He later became the Assistant Director of the Recreation Department for the City of Lawrence appointed by Mayor John J Buckley, a position he held for almost ten years. When the then City Council cut that position, after a long layoff he was appointed by Mayor Mary Claire Kennedy to become the first ever in the City's Police Athletic League Director, a position also approved by the then Police Chief Joseph St. Germaine and Captain Dave Kelly.
He started this program from the ground up and it became a great and vibrant venture serving hundreds of kids and teen agers every night of the week. When Frank retired from this position after ten years he left the job to his son Bill and the PAL never missed a beat. He was extremely proud of his job with the LPD and the three Chiefs he served under, Chief St. Germaine, Interim Chief Ron Guillmette and Chief John Romero.
Frank wore many hats and for many years he managed fast pitch softball teams and won numerous city championships.
He became a sportscaster on the local WCCM station owned by the great Curt Gowdy. Paul Seccaricio brought him to work on a Saturday morning talk show and later do football, basketball and baseball games this was a job he truly loved, to rub elbows and become great friends with legendary Bruce Arnold and learned from the likes of John Moran, Bob Shufriter, Dan Roche of Channel 4 sports now and Don Boyle was always a kick for him.
In later years he became the sports director at WCCM and became responsible for each season's schedule. He did this job for twenty years.
Along the way he covered with great relish the high school sports of the area. One big memory was the Little League World Series featuring the Andover kids and was flown into Williamsport to announce the games.
Frank was proud of the many high school championship games in all three sports he covered. He was also extremely proud of the many coaches in the state that really befriended him and also the relationship he had with the student athletes. He took great pride in pushing the girl's and women's sports of our area.
He and John Moran were recipients of three Associated Press yearly awards.
Frank was inducted into the State of Mass Basketball Coaches Hall of Fame and the next year the same group honored him with an induction to the Football Hall. He was later inducted to the Methuen High School Hall of Fame all three of these prestigious awards made him very proud.
He was recruited by Jack Wilson, Brian Cusack, and Terry Breen to find a way to raise money for a worthy cause and being a volunteer for the March of Dimes this became the charity for a canoe race which was called the Lou Marcel annual race. This event raised many thousands of dollars for this charity and it still exists to this day.
He served two years on the State of Mass Boxing Commission and also the City of Lawrence Human Rights Commission.
In retirement he became a volunteer writer for RUMBO a multi-language newspaper featuring his column Mr B's Sport Memories writing about the high school teams and games of yesteryear. He enjoyed all the Boston teams and although he liked the Bruins he had a strong dislike for hockey.
He really enjoyed all high school sports and his favorite was basketball and the Lawrence Christmas Tournament.
His real close friends over the years were Bob Hendry, Kevin and Dee Judge, Bob Sheehan, Bill Bateman, Ronnie Ford and the late Roger Vachon, Mike Padellaro, Bruce Arnold, Dan Roche and wife Pam, Paul Sac and his wife Donna. Neighbor at Burnham Road and teenage friend Helen and Linda Giarrusso, and his son Bill.
He really enjoyed his relationship with the student athletes and the attendees of the Lawrence PAL and enjoyed it when these former kids now grown up would meet him around town or in the market and how excited and sincere they were to let him know how much they appreciated the times they had shared, and enjoyed their sincerity. His friends will tell you he explains to people about this magical journey by simply saying, 'Not bad for a kid with a ninth grade education from the wrong side of the track with a single parent who finally became legitimate."
Frankie's two brothers, Dick and John predeceased him in recent years. He leaves Dick's wife Stella of Lawrence and John's wife Betty now of Del Ray Beach, Florida. Upon retirement, John was principal of the Robert Frost School after a long teaching career in the city. They had a daughter and special niece to Frank, Julie of New Hampshire. He also had two sons, Bill and his wife Beverly of Lawrence who were both his caretakers and his lifeline, and Tom of Las Vegas and a daughter, Pat Maloney of Salem, NH.