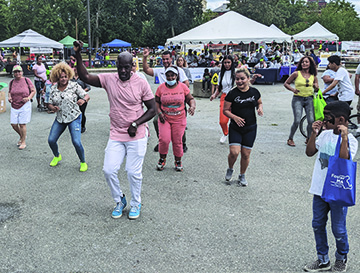 9th Annual Community Resource Fair Strengthens Community
The 9thh Annual Community Resource Fair hosted by the Greater Lawrence Community Action Council, Inc. drew hundreds to Campagnone Park in downtown Lawrence for family fun and introductions to community service providers on Wednesday, August 10th.
The Resource Fair connects families and individuals with helpful non-profit, government, and local service providers in Greater Lawrence. The event featured Ramon Salomon's Caribbean Rhythm, the Lawrence Police Department ice cream truck, and the Lawrence Fire Department's smoke house. In addition to music and entertainment, the fair offered a free COVID-19 vaccination clinic and job recruitment by Amazon, Beacon Mobility, Energy North Group, UPS and more.
"We were thrilled to welcome everyone back to the Community Resource Fair after taking a break due to the pandemic,'' said Evelyn Friedman, executive director of GLCAC. "This event has become an important way for us to educate the public about the life-changing services provided by GLCAC and other organizations, businesses and governmental agencies.''
The fair features over 70 non-profit organizations, academic institutions, local businesses, and government agencies that provide services related to education, financial services, health, housing, job training, transportation, utilities, youth activities, and workforce development.
GLCAC is a multi-faceted social services agency that assists 33,000 individuals through a range of programs including early childhood education, fuel assistance, WIC nutrition assistance, immigration services, lead poisoning prevention, child abuse prevention, English-language lessons, and workforce training.