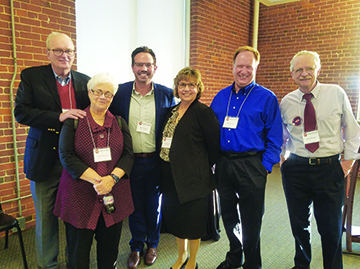 A Celebration of Teaching and Learning
By Dalia Díaz
This spring, Bradford Christian Academy will be graduating its 14th class of seniors, taking their place alongside other BCA alumni, altogether 304 graduates.
On Saturday, April 39th, the public had an opportunity to tour the classrooms at 360 Merrimack St. and listen to students as well as contributors about what BCA means to them.  President and Head of School Victoria Kennedy mentioned many students who are now college graduates and succeeding because "We are building life by life."
During her address to the guests, Mrs. Kennedy explained how nearly 20 years ago, when I and a small group of parents were praying about starting a school and taking some cautious steps forward, Jim Gustafson, a friend from church, pulled me aside and handed me an envelope. He said, "If you're going to start a school, you're going to need money. Ellie and I want you to have this." Inside, there was a check for a significant amount. This unexpected, generous gift shocked me into a new reality: the dream of Bradford Christian Academy all of a sudden felt real and possible.
After 18 years, BAC has become the embodiment of teaching institutions and they are expanding to Lawrence with their 7th to 12th grades.
These students have a full curriculum with basic subjects as well as music, arts, theatre, sports, volunteer opportunities, community service, as well as religion, and Bible studies.  In athletics, students learn valuable and lasting lessons that help form their character. Among these are grit, grace in winning and losing, hard work, discipline, teamwork, and the values of physical fitness and time management.
Every subject matter is geared to how it will affect our daily life.  George Beaulieu just finished his first year there and he chose BCA for its size.  "I love small classes and my favorite is on Tuesdays, Wednesdays, and Thursdays because we have Bible studies with guest speakers from a variety of backgrounds and areas of ministry."
Another student speaker was Noah Bositis who has been at BCA for two years and spoke at length about how much he enjoys the school "and how I found a passion for math."
Graduating this year was Brielle Porter who confessed that she had never gone to church before.  "Today, I consider myself a Christian."  Brielle will be attending Worcester Tech later this year to study environmental engineering.
This is the type of outcome families expect from their children and what motivated Kelly Regan, a parent in the lower school to speak that day.
"The public schools' system was not providing the education and values that I want for my children."  The family lives in Lynnfield and they were searching all over, including New Hampshire for a better school, when someone mentioned Bradford Christian Academy.  She came to meet with the Head of School and two days before schools were scheduled to start, her kindergartener and the third grader started at BCA, even if she must drive half-hourly twice a day.
"I am so glad I came.  I had no idea this school is in my city and I am highly impressed," said Carmen García, a parent from Haverhill.
Bradford Christian Academy depends on donations to complement the cost of tuition which they try to maintain as low as possible and through the years, several families, businesses, and contributors have kept the school running in Haverhill and now in Lawrence for the upper grades.
"In two years, we will celebrate BCA's 20th anniversary," Vicky said.  "As we move toward that milestone and beyond, we remain constant in our mission to offer a strong, college-preparatory academic program, vital, relationship connections, and passionate pursuit of knowing and serving God better every day."
Matt Perusse, a current board member and former teacher from 2007 to 2019 made it clear that "No one is here for the paycheck."  Matt shared his unique perspective on how BCA prepares students, not only for college but also for the workforce.  The faculty and administrators are there with the same passion the students spoke about.
The community gathered to celebrate the amazing work that happens every day in the lives of their students. Students and parents shared stories of how BCA's commitment to Uniting Learning with Purpose is truly having an impact on their lives and in the community through the work of our alumni.
The evening began a third of the way to their $30,000 fundraising goal. After the inspiring stories and the fundraising goal was exceeded.  "Through ticket sales, community sponsors and the extreme generosity of you, our donors, we raised almost $45,000!" said Mrs. Kennedy.  "These gifts – for the Academy Fund – go directly to our Tuition Assistance Program and to the professional development of our amazing faculty."
Any donations can be sent to Sharon Ziegler, Annual Fund Manager, or you can visit the Bradford Christian Academy Upper School Riverwalk Innovation District Campus, 360 Merrimack St., Lawrence, MA 01843.  If you are considering registering a student Please call them for an appointment at 978-373-7960.