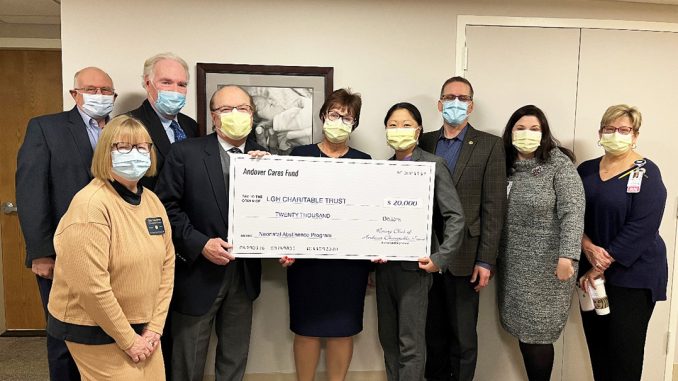 Andover Cares donates $20K to Lawrence General for Neonatal Abstinence Syndrome (NAS) care
'We're ready to stand behind you to help,' chairman Paul Salafia says
Andover Cares, a group formed through the Andover Rotary, is supporting Lawrence General Hospital's efforts to assist babies suffering from neonatal abstinence syndrome. 
The group's $20,000 February 2023 donation will help the Lawrence General team care for opioid-exposed newborns and their mothers, Lawrence General Hospital President and CEO Deborah J. Wilson said.
"We are so grateful for this very meaningful donation," said Wilson. "Our team provides truly outstanding and compassionate care to newborns exposed to opioids or other addictive substances.  It is critical that our frontline caregivers have the training and support they need to provide neonatal abstinence syndrome care and this donation helps them do just that."
Neonatal abstinence syndrome affects newborns whose birthing parent took or has an addiction to opioid drugs or addictive substances during pregnancy. Symptoms of neonatal abstinence syndrome vary, but may include seizures, overactive reflexes, fussiness, excessive crying, poor feeding, slow weight gain, and breathing problems. With substance use impacting millions of Americans nationwide, NAS is more common than many people may think, and awareness and early intervention offer the best immediate and long-term outcomes. 
Andover Cares was inspired to donate again to Lawrence General, according to Salafia, after it saw a $7,500 gift pay dividends several years ago to benefit opioid-addicted infants. 
"The mission of your program is exactly the mission of Andover Cares," said Salafia, who added that Andover Cares was born in 2015 out of a deep concern for the growing opioid use in the town of Andover. A group of concerned citizens came together to fundraise for addiction-related causes and have dispersed funds ever since.
"Without question, you have a lot of soldiers in this army and we're ready to stand behind you to help," Salafia said. "If you can intervene in a family, and give a child a chance, I knew we had to get involved."
About Lawrence General Hospital 
As an independent, not-for-profit hospital serving the Merrimack Valley and Southern New Hampshire, Lawrence General Hospital provides access to high-quality care, the latest technologies, and a growing network of local providers, including primary care and many specialties. A designated Level III Trauma Center, Lawrence General has one of the busiest Emergency Departments in Massachusetts. Lawrence General offers a broad range of services and specialty surgeries in its Santagati Center for surgery and leads the region in cardiac care with Massachusetts' most highly accredited cardiovascular center. With more than 10,000 inpatient discharges per year, 1,400 births, and a dedicated team of nearly 2,000 employees, Lawrence General has proudly served the region since 1875 and is a major acute care provider of emergency, surgical, medical, maternity and newborn care for the Merrimack Valley and Southern New Hampshire. For more information, visit www.LawrenceGeneral.org.