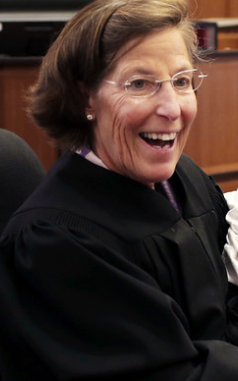 A group of litigants from the Suffolk and Essex County Probate & Family court joined forces over two years ago as they found themselves out of resources to obtain justice and fair evaluation of their cases. The commonality of these cases was an extremely biased judgment and behavior from Judge Abbe L. Ross.
The litigants experienced intimidation, and refusal to incorporate their substantiated evidence and witness testimonies into her findings. Judge Ross repeatedly denied parents the opportunity to defend themselves, and refused to acknowledge the shortcomings of one of the parties who was predetermined by Judge Ross to be "the winner".
The similarity of their cases and experiences was such that they were able to establish a pattern of behavior that clearly favored one of the litigants, and stripped all rights from the other one. Whether it was an inheritance case, alimony, child support or custody, they were all not able to obtain justice in their cases, hence they decided to file countless complaints with the Judicial Conduct Commission and reached out to their individual State Representatives.
According to sources inform us, Judge Abbe Ross has demonstrated her inability to remain neutral, going to the extreme of "making disappear" archived documentation in cases, misrepresenting content presented as evidence, or putting "locks" on the files to prevent these victims from using resources to get their children back.
Most of these victims have endured depression in the past few years, inability to keep their jobs, post-traumatic stress depression and suicidal thoughts as they were not able to cope with the level of pain inflicted in their lives for the past few years due to judicial misconduct.
Some, without justification, lost their children's custody and were erased completely from their lives. "Judge Ross's decisions have caused intense pain for the children she was sworn to protect by completely eliminating one of the parents from their lives," said Cristina, one of the victims.
; no family should be ripped apart because of the extreme biased decisions of one woman. Judge Abbe Ross is a danger to the Probate & Family court system.
Finally, and with the support of State Representative Lenny Mirra, a Bill of Address HD2881 for the removal of Judge Abbe L. Ross has been docketed in the House of Senate.  "While this is a big step, the fight is not over.  Judge Abbe Ross is a danger to the Probate and Family court system," said another victim.
Once the committee gets assigned to the Bill, all the victims will be able to testify and the committee will count all the letters supporting the bill that have been received from any US resident or citizen in the US.
"It's important to reach out to the community, find other victims, especially in the Hispanic community and let them know they are not alone and they have a voice. We deserve to have a fair judicial system," Cristina concluded.
Massachusetts is one of the few states where judges are not elected by popular vote but rather appointed until retirement.
If you want to support this Bill of Address to support the removal of Judge Abbe L. Ross, please click here and follow the easy instructions.
If you have any questions regarding the bill or want to get in contact with the co-sponsors of the bill please contact: victimsofabbeross@gmail.com