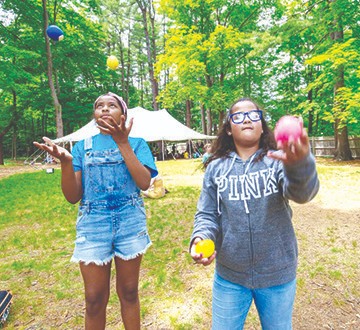 By Jadi Taveras, Head of School
With summer spinning to a close and the start of the school year upon us, it's worth pausing to contemplate where Esperanza has been and also where we're headed as a community. Recently, I came across this quote by the poet Diane Ackerman that reveals so much of what I find exhilarating about Esperanza's journey.
Where there is no risk, the emotional terrain is flat and unyielding, and despite all its dimensions, valleys, pinnacles, and detours, life will seem to have none of its magnificent geography, only a length.
We all have different relationships and comfort levels with the idea of risk- some of us averse to failure, some of us motivated by what's possible. At the core of Esperanza's creation were compassion, faith, determination, and ultimately, risk. Throwing caution to the wind, a group of visionaries came together in 2005 and created a school that would transform the lives of girls from Lawrence for years to come. The path was uncertain, but their moral imperative and visceral determination got them through the finish line in their mission to start a tuition-free, lottery-based, all-girls middle school in Lawrence. For so many of us who are involved in Esperanza, the emotional geography of our lives is far richer than we could have imagined because of the relationship to Esperanza students and our mission.
  With the completion of our summer program on July 31st, I reached the end of my first year as head of school. I am overwhelmed with gratitude for those original founders and the risk that they took. 
These days, some of the biggest risks are those we take with our hearts.  Over the past year, it's been incredible to witness the bravery and vulnerability of our students, families, staff, and supporters.  Today, Esperanza is a thriving school community that is actively thinking about the intersection of poverty, race, gender, and education.  Amongst many other identifiers, we are thinking about what it means to be a young woman, an immigrant, or a first-generation college student in the world today.  Our Director of Literacy and Curriculum is not only helping our students be effective readers and writers but she is also helping all of our students find their voice and their agency through all subject matters.
Our Director of Graduate Support is a Latina woman who remarkably and successfully navigated the educational systems in the U.S. with the same cultural and economic background as our students; modeling for them that leadership is for them too. Our new Director of Development is a mission-driven fundraising professional on an unrelenting mission to create greater opportunities for girls from Lawrence. Our Principal is a Latina woman and a seasoned educator with over 20 years of independent school experience. Esperanza is the home to educators who take risks but never lose sight of the human that is in front of them.
This year I witnessed 5th graders, unflinchingly, give moving speeches in front of their entire school community. My heart was warmed when I learned of our group of 6th graders who fell in love with theatre and improv through their work with Theatre in the Open in Newburyport. I witnessed a group of 7th graders, who were initially reluctant, eventually, fall in love with horse riding through our partnership with Windrush Farm in North Andover. I witnessed an 8th-grade class receive over one million dollars of 4-year scholarships to attend wonderful high schools throughout New England. I witnessed a 12th-grade alumna stun a crowd with her performance in her high school musical. I saw photos and videos of our college-age graduates studying abroad in Peru, with ear to ear smiles on top of Machu Picchu. We celebrated a major milestone in the school's history in having our first student graduate with a master's degree. There is an unlimited amount of examples of our program working, and of Esperanza girls simultaneously challenging narratives and succeeding in the world.
In the upcoming academic year, we will continue to push the envelope. We will demonstrate that our students deserve the best and that Lawrence is a community of tremendous value. We have partnered with the Berklee School of Music to create an exceptional music program where students who love music and those who have not yet discovered their musical talents will thrive. Our students will have access to English tutors from Phillips Andover's Bread Loaf program, where they will work on self-affirmation, identity development, and literacy through poetry and short stories. We will continue our partnership with the Essex Arts Center and we have created a new partnership with Elevated Thought a local arts-based youth empowerment organization that will work with our students during our afternoon activities. We are expanding our village of people who believe in our girls.
In 2005 a group of folks took a risk in starting this school, and in 2019 Esperanza girls are thriving, and our program is stronger than ever.