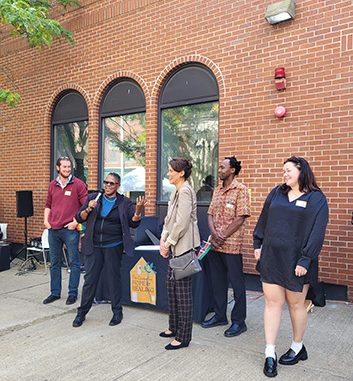 Giving way to local talent
By Dalia Díaz
The new branch of Reading Cooperative Bank is opening its first full-service branch in Lawrence at 215 Canal St. very soon.  The modern structure has 30 apartments and it was all designed by local young people.
The Branch will be opening in a matter of days and the apartments are ready to be rented out but best of all is how that building is elevating the area.
The design was the work of Studio 26 an Architectural and Interior Design services firm based out of Lowell with a wide range of clients, founded in 2015 by Anybé Levy, Anthony Nganga, and Brenna Blye.  Their goal is to provide clients with functional, attractive, and inspiring design solutions and pride themselves on being a design firm that works collaboratively, and enthusiastically, and serves their clients with A+ quality on every project.
"We pride ourselves on our record of customer satisfaction and repeat business. Since 2015, we have been involved in the design, study, and documentation of over 1.5 million square feet of office, lab, light industrial, religious, multi-family residential and retail use spaces, and buildings," said Ms. Levy.
Mr. Nganga, a graduate of The University of Nairobi in Kenya says that they "focus on the individual and amplify qualities of moral compass, life experience, ambition, team synergy, passion for the work, commitment to community, and social intention. We teach, learn and grow together."
The Center for Hope & Healing is a non-profit organization that provides counseling and support services for survivors of sexual assault and their loved ones in Lowell and the surrounding communities. "Currently, we are continually working with them to complete the other phases of their build-out as funding comes in," Anthony explained.
Anybé Levy, who graduated from the Massachusetts College of Art and Design said, "We believe in human value beyond academic education, socio-economic/professional status, and station; therefore, we adhere to a non-patriarchal, nonhierarchical, radical inclusion way of being, where all voices and perspectives are heard – internally with staff and externally with partners, stakeholders, community, and clients. We understand that diverse perspectives make us better at being good humans and trustworthy stewards of the built environment. We understand that many of us suffer a lack of resources and access in this industry due to race and nationality. It is our goal to mitigate these challenges. Our internal hiring process is equity-based."Studio
Brenna Blye is a designer who graduated from Wentworth Institute of Technology.
They count among their clients large companies in the area such as Greater Lawrence Technical School, Community Teamwork, Inc., Condyne Companies, Bell Tower Management/ Edge Group, Inc, Energize Boston, and Enterprise Bank andg many more.
Studio 26 provides Services and is registered in Massachusetts and New Hampshire.