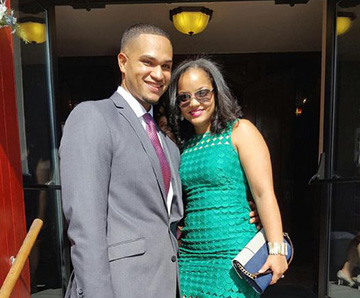 Governor Charlie Baker announced that he has appointed Lidia A. Maldonado, a Lawrence probation officer and former social worker from Essex County, to the state's Sex Offender Registry Board (SORB).
"Lidia Maldonado has a strong background in risk and needs assessment, as well as interagency partnership," said Governor Baker. "Her deep well of procedural knowledge and experience in criminal justice, social services and community involvement make her well-qualified to serve as a member of the Sex Offender Registry Board."
Prior to her appointment, Ms. Maldonado worked for six years as a probation officer in Lawrence District Court, one of the busiest courthouses in the Commonwealth.  In addition to her case management and supervision responsibilities, she served on the Lawrence Domestic Violence High Risk Team, acted as a facilitator for the court's Motherhood Program and the Changing Lives Through Literature Program, and was named a Cultural Proficiency Champion – a role in which she was responsible for promoting and addressing the need for cultural and gender diversity among Trial Court staff and embracing the cultural differences of the communities they serve.
Previously, she worked as a social worker for the Department of Children and Families in Lawrence, where she responded to reports of child abuse and neglect filed by reporters, assessed the needs of the involved families to coordinate appropriate services, met regularly with her clients to develop service plans, and represented the Commonwealth in certain court proceedings.
"Over the course of many years in public safety and social service, Ms. Maldonado has developed the skills and judgment to serve the Commonwealth effectively as a Sex Offender Registry Board member," said Secretary of Public Safety and Security Thomas Turco.
The Sex Offender Registry Board's primary duty is to register and classify convicted sex offenders according to their risk of re-offense and the degree of danger that they pose.  It maintains the state's sex offender registry, works with state and local government agencies to keep them and the public at large informed on registered offenders, and provides additional services to the victims and survivors of sexual violence.  Its seven members are appointed by the Governor, with one Chair and six additional members who serve for six-year terms.
As a Department of Children and Families social worker in Lawrence from 2007 to 2014, Ms. Maldonado responded to reports of child abuse and neglect filed by law enforcement, medical personnel, educators, and others.  She assessed the needs of the families involved and coordinated services to prevent further child abuse or neglect, and initiated court proceedings, including custody petitions of children, on behalf of the Commonwealth.
Ms. Maldonado is a dedicated volunteer for Lawrence-area social support organizations.  As a member of the board of directors of Delamano, Inc., she provided advice, direction, and budgetary expertise to an agency that provides domestic violence intervention and awareness services in the Merrimack Valley area.  As a mentor and co-founder of the Estrella Program, she offered guidance and mentoring to young Latinas at Lawrence High School.  And as an advisory board member for Socratic Inc., she organized fundraising events for scholarships awarded to the college-bound youth of the Boys and Girls Club of Lawrence.
Lidia Maldonado is a 2006 magna cum laude graduate of Suffolk University, where she received a Bachelor's degree in Criminology and Law and minored in Spanish.  She received a Master of Public Administration degree from Suffolk's Sawyer School of Management in 2013 and was recognized as an Unsung Heroine by the Commonwealth of Massachusetts Commission on the Status of Women in 2018.