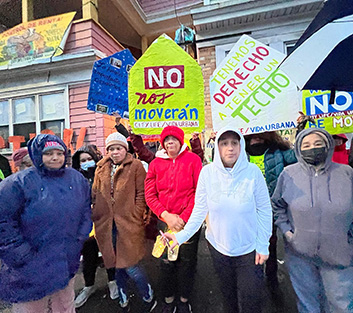 Lawrence LatinX Tenants Association Protest
They demand Collective Negotiations Against HIGH Rent Increases, Caused by Building Sale 
          Last Monday, March 13th, tenants of 60-62 Union St. in Lawrence staged a protest to urge state legislators to support lifting the statewide ban on rent control.
          This issue has been at the forefront of the economic problems in this state and discussed by the legislature a few times.  The result has been that this is a measure that must be taken state-wide, not for just one city, like when we fought for the Voter ID requirements for Lawrence.
          60-62 Union Street Tenants Association from Lawrence; City Life/ Vida Urbana (CLVU); and allies from COSECHA Massachusetts held a demonstration under the rain with multi-generational English- and Spanish-speaking supporters, LatinX families, signs and banners for housing stability and rent control, as well as speeches by working-class tenants.
All over Massachusetts, families are threatened with displacement as real estate corporations buy and sell buildings at inflated prices, forcing rent increases along the way.  The new LatinX tenants association from 60-62 Union Street in Lawrence is resisting the 50% rent increase the new landlord de León is trying to force across the two newly acquired triple-decker buildings. Six households of immigrant families of single mothers, children, and elders received rent increases of 50% and more.
The 50% rent increase will price and displace them from their homes. Tenants like the six families from the 60-62 Union Street tenants Association need Lawrence legislators to help mediate conversations for negotiations and for state legislators to co-sponsor a newly filed bill with the local option for rent stabilization SD1818/HD3953 to prevent and stop mass displacement caused by the speculative market and corporate greed.  This legislation will have a rent increase maximum of 5% tied to the annual inflation levels.
Tenants formed the 60-62 Union Street Tenants Association (TA) with the support of City Life Vida Urbana around September 2022. This was the collective response to the 50% rent increase notice from their new landlord de León, who shared they have no sight of repairing inherited bad conditions.
The Union Street Tenants Association sent a couple of letters to the owner seeking negotiations and offered a compromise in the letter. The landlord has so far refused to negotiate and, since then, has tried to negotiate with tenants individually and has offered short-term multi-month leases that tenants refuse to sign as the shorter-term leases do not provide the multi-year stability the six households are seeking.
The Lawrence Union Street Tenants Association is determined to collectively bargain negotiations amongst all six households for a 5-year contract with rent increase caps of 2% per year because this is what they afford after three years of financial instability caused by the aftermath of the COVID-19 pandemic, which particularly hit immigrant communities the hardest as thousands were left out of government aid.
With existing high rents, a more affordable rent increase maximum will not only prevent the displacement of the tenants in Lawrence but has the potential to stabilize households across Massachusetts.