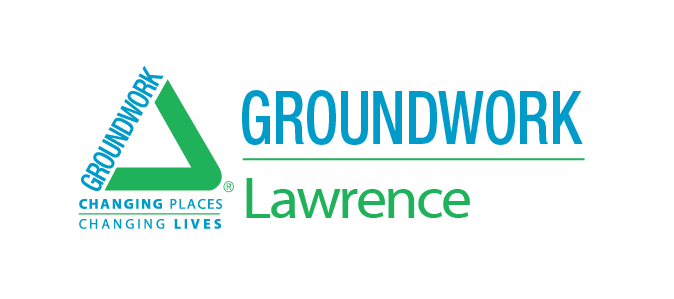 Experience Successful Impact of Healthy Incentives Program and Recognize GWL for Mass Trails Grant Award
On Saturday, September 7, state legislators from Lawrence visited Groundwork Lawrence's farmers market at Lawrence Catholic Academy and saw firsthand the success of the state's Healthy Incentives Program (HIP). Senator Barry Finegold and Representative Christinia Minicucci took the opportunity to also recognize Groundwork Lawrence for receiving $100,000 from the MassTrails Grant to begin design and permitting of the downtown portion of the Merrimack Riverwalk Path.
Groundwork Lawrence operates three farmers markets each week throughout the summer, ensuring that customers who are on SNAP can use their benefits to purchase local, healthy food through HIP. A state funded program, HIP provides a monthly dollar for dollar match (up to $80 depending on family size) on money spent at farmers markets to use anyplace SNAP is accepted.
This year, the state budget increased HIP funding by $2.5 million for a total of $6.5 million. Although advocates estimate this is not enough funding to operate the program year-round, and means additional farmers are not able to join the program, this increase is a significant endorsement from the state demonstrating the program's impact in supporting healthy families and the economic strength of Massachusetts' farmers.
"I am a proud supporter of Groundwork Lawrence and their participation in the Healthy Incentives Program, which will provide $40-80 in monthly incentives to SNAP recipients, doubling the value of their purchases at farmers markets," says Senator Barry Finegold. "This is a win-win program – it gives our most vulnerable communities access to healthy food and supports our local farmers. I fought for the funding in the FY20 budget and am thrilled that the program will be receiving $6.5 million this year statewide."
Echoing Senator Finegold's support, Groundwork Lawrence Executive Director Heather McMann noted: "HIP helps make the healthier choice the easier choice."
Lawmakers also presented Groundwork Lawrence with a citation from the state Senate in recognition of receiving the MassTrails Grant. This grant provides $100,000 to support design and permitting of the Merrimack Riverwalk Path in downtown Lawrence. The path is a planned 1.3 mile paved multi-use riverfront pathway between the Great Stone Dam and Shawsheen River in Lawrence's downtown district. It is a critical link to bring together a network of trails and greenspaces in the city, and will connect residents to transportation, open spaces, and recreational opportunities. In addition to this grant, GWL has received funding from the Lupoli Foundation to support the project and awaits $500,000 from the state's environmental bond bill to be released in order to complete the design process.
"Groundwork Lawrence is proud to begin the development process of the Merrimack River Path," said McMann. "The creation of this path has long been a goal of ours, and funding from the MassTrails Grant makes that possible. As we continue to increase access to open spaces and recreational opportunities in the city, we know it will positively impact the economic and social well-being of the area."