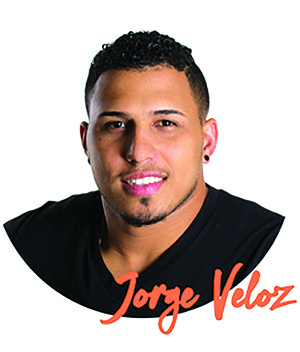 EForAll, the national and multi branch non-profit organization, whose mission is accelerating economic and social impact through entrepreneurship in mid-sized cities, is celebrating its annual Summit for Inclusive Entrepreneurship.
Jorge Veloz, the 26-year-old proprietor of Pentagon Studios, a marketing and design company, will be one of the panelists for the event.  His experience and extensive work at empowering business owners in optimizing their platforms to be more marketable and competitive has led him to become an authority in the field. He will be hosting the workshop "Communicating Your Value" along other thought leaders in the business field teaching upcoming entrepreneurs about communicating and understanding the value of their proposition, identifying the benefits offered within their platform, and leveraging its competitive differentiation.
His company has assisted in creating videography for the David Ortiz Children's Fund.  Has worked with the online presence of the co-working space 60 Vibe and has provided branding services for Port Electronics Corporation. During 2016, he even launched an urban clothing line called Aurea Vestes (a registered trademark in the Commonwealth of Massachusetts).
During the summer of 2019, the Mayor's Office in Lawrence recognized him for helping the business community throughout the Columbia Gas explosion disaster with a Community Champion Certificate. The State of Massachusetts also acknowledged the young man's efforts for his innovative entrepreneurship and altruistic performance at creating a positive impact in the local business community.
The EForAll summit will take place on October 2nd at the UMass Lowell Inn and Conference Center in Lowell, Massachusetts. Bringing together leaders across sectors for the benefit of the public that seeks to pursue a sustainable venture. City and state leaders, financial institutions and mentors will be present, such as the mayor of Holyoke, the President & CEO of Massachusetts Growth Capital Corporation and EForAll CEO, all with the common goal to provide knowledge capital to the public.
Veloz is currently working in community projects that promote his personal brand of social responsibility such as serving as part of the Entrepreneurship Committee of the EParaTodos nonprofit (EforAll's Spanish branch based in Lawrence) and organizing the LatinX Networking Events under the above-mentioned institution.
The young Latino is currently looking to expand his business to generate employment in underserved communities in the Merrimack Valley and is interested on assisting business owners lacking the tools and resources to successfully operate their trades, bringing to the table innovative marketing strategies to benefit both established and new companies.