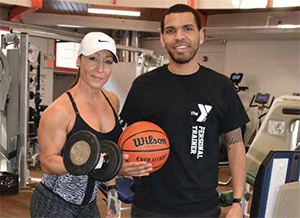 The Merrimack Valley YMCA has just finished a very ambitious project with the renovations and additions of the Andover/North Andover Branch.  The state-of-the-art addition is a show-stopper for anyone traveling on Routh 133.  Now, they are moving on to create something similar at the Lawrence Branch with an addition in the corner of Lawrence and Lowell streets.  The fundraising has begun and our community will be just as proud of the results.
The changes in the interior of the old building have been tremendous in order to accommodate the Adelante! Program as well as the after school programs available for younger children.  The old Wellness Center has disappeared to expand the children's area and the equipment is now located in the former basketball court at the entrance to the right.
There's lots of excitement for the plans but that has not stopped progress in programming.  Daniel Halloran, the executive director of the Lawrence Branch recently hired Jaycob Morales as Sports and Wellness Director, confident that he would be a great asset to the organization.  He is now in charge of all dance classes, the child watch, homework help and sports programs.
Meeting this 24 year-old young man was more than I expected.  Recently graduated from Wheaton College of Liberal Arts with a degree in Economics, Jaycob received numerous job offers from New York to Western Massachusetts, yet he chose staying in his community, close to home and being the role model our children need.
Jaycob praises his parents Isabel Ortíz and Rafael Morales for keeping him grounded, giving him the upbringing of morality and respect.  "It was mainly my mother and my grandmother who instilled in me accountability for my actions, responsibility, respect and not swearing."
Another big influence in his young life was Steve Martinez at the Boys and Girls Club where he participated since he was 7 years old.  "Steve taught me the most important lesson in that finding the reasons for failures.  When failing a test, he would explain how to improve it."
Then, one day he became part of the tragedy involving four boys drowning in the Merrimack River on December of 2002.  "We didn't have anything to do and decided to go down the river," he explained.  The ice was thin and when his friend William fell in, he tried to help and ended up in the water, as well.
Ivan Casado, 9, managed to get out of the water and went for help.  Jaycob was rescued but his four friends remained under 8 feet of water for over 10 minutes and could not be saved.
The four of the boys were William Rodriguez, 11, Mackendy Constant, 8, Victor Baez, 9, and Christopher Casado, 7, Ivan's brother.  They were pronounced dead at hospitals where they were taken.
That experience lives with him every day forging the idea of preventing that other children enter into dangerous situations because they lack of activities after school.  For that, the Lawrence Y is the right place for him to be.
Jaycob is also a product of Bellesini Academy and Central Catholic before going to Wheaton College.
When asked about the worst problem for Lawrence, he said, "Perception.  We, the residents of this city know better, but people outside of Lawrence love to put the city down because they don't know us."
And Jaycob is out to change that.  He has a goal: Helping ten people each year.  He'll have no problem fulfilling that goal.
More about the Wellness Center
The Lawrence Y always strives to assist members with the proper use of the equipment or the right kind of exercise to achieve their fitness purpose.  Elías Tavares has been there for about 15 years encouraging older individuals to the benefits of exercising.  Elías insists that he exercises for health reasons – to stay healthy!
More recently, Jeanette Irizarry has joined them in the afternoons.  Jeanette is a personal trainer and her story is contagious.  She began going to a gym in Puerto Rico after she had four children and could not lose weight.  Her husband, who was an avid exercise fan, advised her to go with him and lift weights.  She refused doing that because, "I had the wrong idea about the benefits of lifting weights."  Obviously, he convinced her and she got hooked.  Eventually, Jeanette became a fitness trainer and she is an inspiration to women at the Lawrence Y.