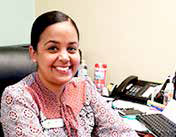 By Dalia Díaz
The Y building in Lawrence is going to receive an amazing renovation over the next two years; first, we have to raise the money to do it. That's why I wanted to do a series of articles and let the public know the treasure that represents an institution like this one serving us for more than 120 years.
Every so often I meet people who have the impression that the Merrimack Valley YMCA is an organization that receives state or federal funds. I love being able to explain that I have been involved as a board member since 1998 and have seen the efforts made to deliver all the benefits that its members receive. These services for small fees (according to their financial condition) are thanks to the benevolence of so many charitable people and companies that understand the mission. The YMCA is maintained exclusively from membership dues and contributions.
In the coming weeks I will describe some of the programs to see that the Y is not just basketball or swimming. Their wonderful pool is particularly beneficial for seniors reducing the risk to diabetes, osteoporosis as well as coronary heart disease and high blood pressure. Older people find a different social life when they surround themselves with people who care about their health.
The new day care center not only offers education and new skills, but also a lot of healthy fun and even learning to swim. The cost of that renovation was $1.3 million and it was inaugurated this year.
In recent years, the creation of the Music Club has made it possible for our children and young people being able to learn to play an instrument, singing and even write music. Some have already been accepted at Berklee School of Music. It delights us to see how many students come after school and are practicing until closing time. Once they belong to the Music Club, they are entitled to the other activities that the Y offers.
But it all begins with your membership. To find out more or sign up, contact Rocio Díaz at (978) 686-6191 ext. 25.