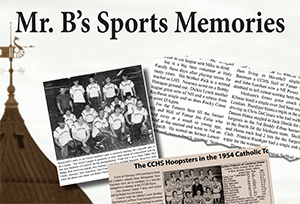 This is a great story about boxing and boxers. lt took place about 20 years ago and although I'm not very good on dates, this event still is emblazed in my mind. lt starts with my relationship with Al Valenti the famed boxing promoter who use to sit in on my Let's Talk Sports show pretty often.
Al was not only knowledgeable about boxing but loved to talk baseball and football. He was a natural at the mike. We became pretty close and he introduced many of boxing biggest stars. He also enjoyed talking to me at the old Sons of Italy on Marston St. to sample the Bonnacorsi cooking. Well, he always set me up and also my friends to many big matches in boxing. He made sure my pals and I got press passes and in most cases yours truly sat at the ring apron. One day Al phoned me at home to invite me to a dinner by the Italian Hall of Fame being held at Landolph's in Randolph and I readily accepted.
When I arrived at the site I was seated at a table readying for a good meal and not wrong, the food, Italian of course, and the best was yet to come. The room was crowded and stars like Frank Malzone, Rico Petroclli former Red Soxers and Mike Eruzione former Olympic star was among them.
Valenti's uncle was honored as an inductee. Sitting at the head table was former world champion Willie Pep. By the way, I found out his father is buried in Lawrence under the family name of Papaleo. Sitting next to me was Mass resident and a local favorite Tommy Collins who packed a great knockout punch in his day. Collins an Irish favorite in Boston used to sing the National Anthem from his corner before all of his fights. A likeable guy he and I started talking boxing and I was mesmerized to be holding a conversation to this former NE champ, it was like talking to one of my pals in my city. What a regular guy!
The day was going great and the speeches were short and sweet until Eruzione took the mike and he started about when he was 7 years old and droned on and on. He may be still talking as people were heading to the door and it was very boring.
Collins and I deep into boxing and those who know me know I don't talk or care about hockey, but I respect what Eruzione and his team did.
Collins says to me, "See Willie Pep up their Frank." I said "Of course, when we were both in our boxing career Willie was my idol and we signed to fight each other." Willie was a hit and run and dance master and I was a puncher and we did fight in the old Boston Garden in a packed house.
He continued saying, "I knocked out my idol, it was a great win but I cried in the dressing room after the fight at the thought of KO'ing my idol." He then added, "Willie hasn't spoken to me since, probably a 10 year period."
That story amazed me. I called Valenti over to our table and told him what Tommy had told me. Al went to the head table standing in brought Pep to our table. I was standing with and in awe of the great 'Will off the Wisp' as he was called. Al Valenti talked to these two stars and before you know these two were hugging and crying. It seems each thought the other was mad.
Can you imagine this guy from Crosby St. in So Lawrence helped bring these two superstars together as they mended their fences? It still remains as one of the great moments of my life. This story is every word true and I love sharing it with my Rumbo readers.