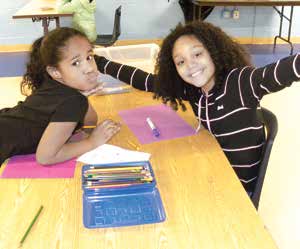 A day off from school due to snow is every child's dream. But for working parents, it can be a nightmare. In today's economy, it is difficult for parents to take a day off from work – even on snow days. The Merrimack Valley YMCA is helping to solve this issue by offering full day child care on snow days for children enrolled in their afterschool program. The Y's programs offer activities in a caring and safe environment so parents can go to work on days when school is cancelled.
"We realize the hardship that snow days can create for families," said Merrimack Valley YMCA Executive Director of Childcare, Cathy Flynn. "By offering full day child care on days when school is cancelled, we can eliminate that stress for the families we serve."
Just like in the after school program, the YMCA offers a full curriculum on snow days, including arts and music, Active Science, homework help and tutoring, outdoor activities and swimming if pool time is available. Full day care is offered at the Andover/North Andover, Lawrence and Methuen branches when school is cancelled in those communities. Families who are not enrolled in the Y's after school program can also sign up to send their kids on snow days only.
The Y is a leading nonprofit committed to nurturing the potential of every child and teen, supporting their social-emotional, cognitive and physical development from birth to career. Financial assistance is available to those in need, to ensure every child and teen has the opportunity to learn and grow at the Y. For more information about the Merrimack Valley YMCA's afterschool program, please contact Cathy Flynn, Executive Director of Child Care, at cflynn@mvymca.org or visit mvymca.org.
About the Y
With its headquarters located in Lawrence, Massachusetts, nestled in the heart of the Merrimack Valley, the Merrimack Valley YMCA is represented by the Andover/North Andover YMCA, the Lawrence YMCA, the Methuen YMCA, Camp Lawrence and Camp Nokomis on Lake Winnipesaukee, and Day Camp Otter in Salem, New Hampshire. Each of these branches and camps serve the needs of distinct and unique communities, making the Merrimack Valley YMCA an organization rich in cultural, social, and economic diversity. Through quality programs, services, volunteers, and staff, the Merrimack Valley YMCA is constantly working to help make healthier lives achievable for everyone.