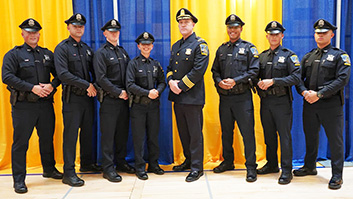 Methuen Police Department Welcomes Seven New Officers Who Graduated From NECC Police Academy
Mayor Neil Perry and Police Chief Scott J. McNamara are pleased to report that the Methuen Police Department is welcoming seven new officers to the department now that they have graduated from the Northern Essex Community College Police Academy.
On Friday, June 24, Officer Jason Young, Officer Cameron Fountain, Officer James Smith, Officer Kayleigh Forgetta, Officer Dannery Serrano, Officer Robert Fitzgerald, and Officer Angel Mejia Jr. graduated from the academy.
Each of the officers completed the 24-week academy, and will now join Methuen Police, where they will participate in a 3-month Field Training program, working side by side with a Field Training Officer.
During the graduation ceremony, Methuen Officer James Smith was presented a Physical Fitness award from NECC Academy staff.
Each of the officers was initially selected from the Civil Service Police Officer's List and entered the NECC Academy on Jan. 10.
"I want to congratulate these men and women on completing the police academy. The academy is rigorous and challenging, but it prepares officers for the work that they will now do on our streets," said Chief McNamara. "I welcome these officers to our department and know they will continue to learn and grow throughout their Field Training."