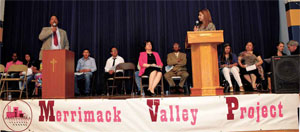 By Alberto Suris
On Saturday, June 20th, a meeting was held in the gym of the St Mary's Assumption Church, organized by Merrimack Valley Project. The purpose of the meeting was to get legislative support for the undocumented immigrants living in Massachusetts.
More than 200 people attended the meeting, as well as the Mayor of the City of Lawrence, Daniel Rivera and the President of the City Council, Modesto Maldonado. In the audience were also Councilors Nilka Alvarez-Rodriguez and Roger Twomey.  Although he was invited, Acting Police Chief James X. Fitzpatrick did not attend but sent a letter supporting the Safe Driving Act, according to an executive of MVP.
Specifically, MVP is asking Lawrence support for two proposed laws — The Safe Driving Act and the TRUST Act.
The Safe Driving Act already passed in 11 states including Connecticut and Vermont would allow Massachusetts residents without social security number to earn a driver's license.  The Trust Act would limit the way in which local law enforcement officials engage in enforcing federal immigration laws.
MVP is urging the Lawrence City Council to pass an ordinance establishing similar Trust Act which has passed in cities like Boston and Somerville. The coalition is also asking the city council to pass a resolution endorsing the Safe Driving Act which is before the State Transportation Committee.
MVP is a coalition of religious, labor and community groups working to improve the quality of life in the valley.  Sixty-two (62) religious leaders are supporting MVP for Immigrant Justice.  Among them were Lawrence household names, as Pastor David Berroa, Fr. John Dello Russo, Rev. Gabriela Garcia, Rev. Milagro Grullon, Pastor Victor Jarvis, Pastor Jose Santos, Pastor Susan J. Santos, Pastor Luciano Taveras, and Fr. Carlos Urbina OSA.
The event was conducted in Spanish, but with instant English-language translation. "We want the English-speaking people to experience what many immigrants present here experience every day," said a member of MVP at the beginning of the program and added, "Please open your hearts".
Both, Mayor Rivera and Council President Maldonado were questioned publicly about their positions to the demands that were presented. Maldonado was questioned by Jacqueline Mars and Ana Cardenas questioned Rivera. The questions are very similar, only requiring a response of Yes or No.
Maldonado answered yes to all the questions, and he is willing to work with MVP to adopt a resolution in Lawrence in favor of Safe Driving Act and will be willing to testify on behalf of the Safe Driving Act in open court in the State House. With that vote also pledged to lead the Council of Lawrence to pass a strong version of the Trust Act before September 1.
Mayor Rivera was more cautious. He has no problem in supporting the Safe Driving Act. "To have a driver's license is very important," he said. Regarding the Trust Act, he said "I don't want to put pressure on our police, they are a hundred-plus and we are 80,000 but if they do something beyond reproach, they will be reprimanded".
"I'm undocumented but not incapacitated," said Sonia Terbullino when it was her turn to offer her testimony.  Sonia is originally from Peru and has been living in Lawrence for the past 11 years, not from public charity as many may think of the undocumented. With her entrepreneurial spirit and incredible energy, Sonia has started two small businesses, My Little Peru, at 191 Essex Street in Lawrence and at the Flea Market in Salem, NH.
In addition, Sonia has founded a nonprofit organization Manos en Acción (Hands in Action) through which she has fostered entrepreneurs, 17 in total, and in turn they have become established in various businesses.  In June 2014, Forbes magazine published an important article entitled "Finding the new Zuckerberg in Lawrence, MA" where Manos en Action was mentioned as an example of business incubator. (Zuckerberg is the founder of Facebook).
In August 2013, Sonia won the first prize in a Pitch Your Idea contest. She has been working for almost ten years as a volunteer at Lawrence CommunityWorks, besides for 3 consecutive years as a volunteer at the Lawrence YMCA teaching social studies and Spanish language to people who need a GED.
"Today is an historic day for Lawrence if we pass these two laws. Having no driver's license I'm stuck.  Imagine how much more I could do!" Sonia said.
Meanwhile, Gabriela Garcia explained that she comes from a very close family of El Salvador, when they had to flee for their lives after 8 of her relatives were murdered. We left everything behind and suffered a lot before having documents. "I have seen the suffering of many who have been arrested and even deported," she said.
It has been several years since her escape from El Salvador.  Today, Gabriela is the Rev Gabriela Garcia, Minister of the Christ United Methodist Church (UM) in Lawrence. "Today we want you all to listen to our testimonies, and realize that fear is certain.  We are asking Lawrence to become a city that says, Yes, we support the Trust Act."