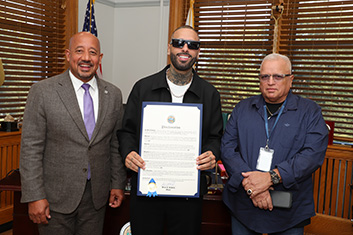 New Music and Arts Center for Lawrence, MA
A proposal that must be approved by the City Council
          Mayor Brian A. DePeña, alongside Members of the Lawrence State Delegation and members of the Lawrence City Council were thrilled to welcome Nick Rivera Caminero — known by his stage name, Nicky Jam, and held a series of successful events, which brought the community together to celebrate music and culture.
          The first encounter was held at the Lawrence Mayor's Office, where several local and state officials met and recognized the Latin artist with certificates and proclamations, ranging from the Lawrence City Council to the Massachusetts State Senate.
          The second encounter was held at the Lawrence Senior Center, announcing the proposal of 147 Haverhill Street as the possible future "Nicky Jam Center of Arts and Music". The announcement was made shortly after 9 a.m. by Mayor Brian DePeña, accompanied by City and State Officials, as well as Lawrence Public Schools, the Lawrence Police Department, and other delegations.
          The third encounter was held at the intersection between Broadway and Green Street, near Nicky Jam's former home where he grew up, as the "Nicky Jam Corner". Mayor DePeña would like to express his gratitude to the members of the Lawrence City Council for the recent approval of the dedication of a street corner at Broadway and Green Street. This will honor the renowned Latin musician, Nicky Jam, as well as the dedication to establishing the Nicky Jam Center of Arts and Music. This landmark highlights the vibrant diversity of the community and serves as a celebration of cultural arts in Lawrence. Thanks to the City Council for their ongoing support of initiatives that promote inclusivity and creative expression within the city.
          I'm convinced that Nicky Jam's visit to our City of Lawrence will mark a before and after since Nicky represents strength and courage that we must chase our dreams. This proposal that has yet to be approved by the city councilors for the creation of a New Music and Art Center fills us with pride, said Mayor DePeña.
          "Today, we proudly honor the incredible journey and remarkable achievements of Nicky Jam, a son of Lawrence. Through his talent, dedication, and determination, Nicky Jam has not only made his mark on the global music scene but has also remained a source of inspiration for our community. It's an honor to recognize his accomplishments and celebrate his roots. The Lawrence community takes immense pride in Nicky Jam, and we look forward to the continued impact of his artistry on our city and the world," said Senator Pavel M. Payano.
          "It was a pleasure to welcome multi-award-winning artist Nicky Jam back to Lawrence and it fills me with great pride to see those from our community achieve such incredible, international success," said State Representative Frank A. Morán (D – Lawrence). "I am also deeply grateful to Nicky Jam for his generous donation to help create the Nick Rivera Caminero Music & Art Center so that we may continue to uplift and support future generations of artists in our city."
          I'm very excited about everything we experience in our city today. We had positive feelings with Nicky Jam, he has been a very humble person who always feels proud of his community of Lawrence where his roots are, and he's willing to help our youth, said State Representative Estela Reyes.
          "Lawrence is blessed to have three cultural giants who claimed our city as their home. I would place Leonard Bernstein, Robert Frost, and Robert Goulet on our metaphorical "Mount Rushmore." At 42 years old, Nicky Jam has led a full, but not complete, life. We would need to seriously consider placing him on our cultural Mount Rushmore as he continues to be a trailblazing international star," said City Councilor President Marc Laplante.
          City Councilor for District E Stephany Infante said it best.  She was one of his fans and worked on this project for an entire year.  She began by writing to Nicky to see if he would accept coming to Lawrence to speak to our kids or something of that sort.  Besides, Mayor DePeña wanted to honor him with a proclamation. Stephany was unsure if she would get a response but the very next morning, a member of his staff responded in the affirmative.  The preparations began!
          "I reached out to Nicky Jam's team a year ago to invite him to our city, so that the youth of Lawrence can witness firsthand that no matter the challenges they face, they too can rise above adversity," said District E City Councilor Stephany Infante. "Today, we welcomed Nicky Jam to Lawrence and showed the youth that dreams can come true and they can become anything they set their minds to."
         Nicky is the best testament to today's children that it is possible to change their ways and succeed in life. Nicky just returned from a European tour.  He performed together with Shakira and other big stars.  "I have won all kinds of awards and honors but nothing could compare to this reception and the love I received from my city," he said to the screaming audience.
          Even though he left and went to live in Puerto Rico and later in Colombia, the Lawrencian in him always dreamt of coming back and contributing to the city of his birth.  And that he did!
          This marks a significant milestone for the city of Lawrence, which is proud to foster a rich and diverse community that embraces the arts. The Mayor extends his congratulations and thanks to Nicky Jam for reiterating his roots in Lawrence and sharing his stories and talent around the globe.