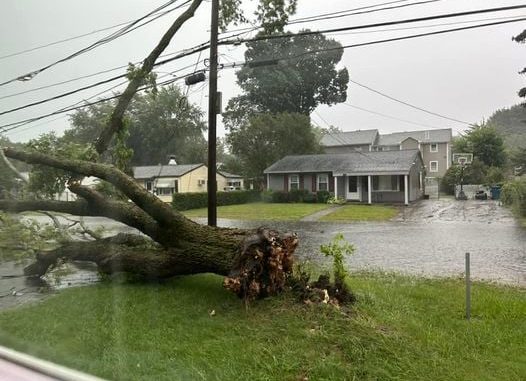 The media ignores Lawrence, but we are grateful
By Dalia Díaz
On September 8, 2023, thousands of residents were left without power after a vicious rain and windstorm rolled through the City of Lawrence, prompting an impressive, rapid response from our First Responders, Department of Public Works, Health and Human Services, Community Development, Inspectional Services, and other city officials.
Mayor Brian A. DePeña pointed out, "The collective effort of our dedicated staff was nothing short of outstanding. This was a fast-moving, aggressive storm that caused severe damage in a short amount of time. The residents should be very proud of the swift response from our emergency service personnel. Their tireless dedication and collaborated efforts played a vital role in restoring normalcy, minimizing disruptions, and ensuring the safety of the community."
Over 30,000 residents initially lost power, but due to the hurried action of city personnel, National Grid was able to access power lines and start working almost immediately. Within 24 hours, power was restored to over 25,000 residents, leaving 4,129 offline. By Sunday morning, only 1,014 remained without power. On Sunday night, power was restored to every resident and business except for those needing to hire electricians to repair damaged systems.
Emergency First Responders were dispatched immediately throughout the City. Fire Chief Brian Moriarty rapidly mobilized teams, efficiently assessing, prioritizing, and mitigating hazards. Firefighters were tasked with responding to 51 emergency calls for power lines down, alarms sounding, a motor vehicle accident, and a multifamily structure fire that occurred as a result of a tree branch ripping energized power lines from the building.
Mayor Brian A. DePeña praised the fire department's effort, "They did a fantastic job. We heard reports of gusts of wind exceeding 55 mph. We are grateful that the damage to trees and power lines didn't cause more fires."  The Red Cross opened a regional shelter at the North Andover Senior Center located at 481 Sutton St., across from the Lawrence airport with additional charging stations and food.
The Public Works Department and Water Department sprang into action, promptly dispatching skilled personnel equipped to remove fallen trees and clear roads ahead of National Grid's arrival. The City retained two additional tree contractors for support. National Grid added 80 extra emergency crews to help restore power.
Public Works Director Jorge Jaime reported, "The heavy winds violently uprooted 53 trees into streets and onto city property, causing damage to roofs, power lines, and meter connections. At the storm's onset, we got everyone together. We knew our crews could not deal with attached or downed powered lines, but we had to deploy teams quickly to ensure National Grid's emergency crews could get immediate access."
Mayor DePeña praised DPW Director Jaime for his quick response.
The police department coordinated traffic control and ensured public safety during the cleanup operations. The police officers were called to assist with 23 road closures.  During the restoration period, the Police Department activated its mobile command center. Additional police patrols in the affected areas were added for safety and security. The command center served as a food distribution center monitored by Martha Velez and her staff and a cooling and charging location on Jefferson Street that remained open for residents until power was restored.
Fire Captain Michael Armano, LPD Captain Ariel Montas, Lt. Melix Bonilla, Martha Velez, of Health and Human Services, Awilda Pimentel of Community Development, Peter Blanchette of Inspectional Services, and all of their staff walked the most affected areas providing food, offering information and support for spoiled food concerns, power restoration updates, and other social services.
Mayor Brian A. DePeña, Chief of Staff William Castro, State Delegation Frank Moran, Pavel Payano, Estela Reyes, Francisco Paulino, Fire Chief Brian Moriarty, and Acting Police Chief Michael McCarthy maintained constant communication regarding updates and current situations of the storm; as City Councilors Marc Laplante, Stephany Infante, Celina Reyes, Gregory Delrosario, Ana Levy, Jeovanny Rodriguez, Richard Russell, Maria De La Cruz, also walked the affected areas providing information regarding power restoration updates, and other social services.
"We faced severe weather this year, including flooding and power outages. Even quick-moving storms can have a devastating impact on our residents as Water Commissioner William Hale could attest," added Mayor Brian A. DePeña. "My administration is committed to improving preparedness for these types of emergencies."
On Monday, September 11, Mayor DePeña met with Department Heads to debrief and discuss future responding plans of action.
In anticipation of future rain and windstorms, the fire department would like to advise and remind residents not to touch or drive over any downed wires, not to run generators from inside the homes because of the dangers of carbon monoxide poisoning, and not to drive through flooded areas. Generators should always be placed outside buildings at least 5 feet away from any flue. If there is any smell of gas, please call 911 immediately.
The outside media may ignore Lawrence but we know just how bad the situation was last weekend and the remarkable job that was done by local authorities.