Mayor Rivera's Crime Policy: Do almost nothing and blame it on others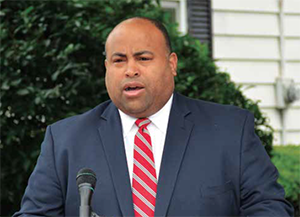 By Dalia Diaz
Around September 2017, fourteen needles were found by the South Lawrence East School in Lawrence.
On October 30, 2017, it was reported that four shootings, one fatal occurred in Lawrence. After his reelection win, a local newspaper reported that Lawrence Mayor Dan Rivera addressed the opioid crisis admitting he didn't have any answers, and saying it's the responsibility of other government officials to solve the problem.
On November 2, 2017, the curfew imposed on all Lawrence Parks on October 25, 2017, due to drug-related incidents resulting on one more death, continued.
On November 8, 2017, 27 mayors from across Massachusetts push for a federal law change. Mayor Rivera is one of the mayors in attendance.
On November 26, 2017, Mayor Dan Rivera told reporters at the crime scene on Hillside Ave. that it was a drug deal gone bad (sic) and that the shooting, fatal, was a "symptom of a larger problem" facing many communities in Massachusetts and elsewhere.
The above are a few of the shootings and deaths that have occurred in the City. While they have taken place, Mayor Rivera's only response is that is an issue bigger than Lawrence signifying that he can't do anything about it. However, has he tried or is he even trying? Or has he given up? Because, if I understand the words coming out of his mouth, he is basically saying that this problem is way over his head – and it's a very bad message to send to Lawrence residents.
Let me provide Mayor Rivera some strategies for combating the drug problem.
Neighborhood watches
After 54 years in this country, I never thought that I would have to suggest neighborhood watches in this country because they remind me of the Committees for the Defense of the Revolution in Cuba (CDRs) where neighbors spy on each other and you could not trust any of them; but I am not going to let my prejudice interfere in a different culture and times.
First, he should help neighborhood groups form anti-crime patrols, then stimulate interest among residents in joining existing patrols, and hire private guards to augment the activities of local police forces. Public housing projects as well as more traditional neighborhoods should be the focus of such efforts.
Second, combat the lowest end of drug transactions (street transaction).
Third, if your city appears run down and uncared for or abandoned, then you will see an increase in crime. Let's combat graffiti and make a graffiti task force. Clean up the areas that are most visible from each Lawrence city entrance. Let's stop making Lawrence look like it's in a disorder state.
It was once stated, and some people still do believe, that a major reason for not reporting crime is the victims' belief that authorities can do little to help in the incident. The words from Mayor Rivera continue sending the exact message that there is little the city can do. If police don't respond to crime scenes on a timely basis, what is the sense of having neighbors watching when crimes are being committed?
Community groups can improve any neighborhood. All of the neighborhood groups in Lawrence have monthly or quarterly meetings. But, they are mostly political and only get mayoral support when they endorse him. These groups want members of the city to attend and provide reports and answers to their neighbor's questions and concerns. However, none have an effective strategy to assist the city in any of their issues; whether it is crime, trash, empty lots, parks, etc.
The largest neighborhood association was in the Mt. Vernon area and it has almost disappeared because it has turned into political rallies. Traditionally, attendance and public participation to neighborhood associations has been very poor, usually under 20 residents and most people have never heard from their directors.
The National Sheriffs Association recommends translating crime and drug prevention materials into Spanish or other languages needed by non-English speakers in the communities. If necessary, have a translator at meetings. In a city where there's no money for educational materials to instruct residents on recycling, trash, snow removal, etc., their suggestions are aiming high.
They also suggest checking police reports and learning about residents' perceptions about crimes. Often, residents' opinions are not supported by facts, and accurate information can reduce the fear of crime. The problem in Lawrence is that information from the police department is withheld and very difficult to obtain the facts. I depend on the Daily Log to find out about how crimes are reported and the website is seldom updated. On November 26 I sent an email to Officer Tom Cuddy asking why it had not been done since September 18. The next day, it was updated through October 13. They are still one and one half month behind. I believe there's a concerted effort in keeping the community in the dark regarding the truth about crimes in the city.
Do any of the city's neighborhood groups have a neighborhood watch? No, not just a sign in your neighborhood that says you have one, but an actual walking neighborhood watch – one that is alert, observant and caring and reports activity or crimes immediately to police contacts. The Department of Justice states that neighborhood watch reduces crime but they only work in places with little crime cases to begin with; they don't work in high crime areas mainly out of people's fears to get involved.
The drug trade and abuse
Rivera was Military Police in Irak and should have knowledge of how to enforce law and order. Apparently he only behaves in a militaristic way with City Hall employees but has no idea with the general population.
Let's continue by discussing how to combat the lowest end transaction of drugs in Lawrence. Many residents say that they walk by an area of their neighborhood every day and see drug transactions. They call police and it takes at least 30 minutes to respond. The LPD has to be quicker – there should be a standing police cruiser and crew at these locations that are known to be a nuisance in a quiet drug transaction kind of way. Neighbors in Reservoir Street complain of cars from morning until night of people smoking marijuana and then advance to drive under the influence, leaving discarded "munchie" trash on the streets, finding pollution of cigar wrappers all over, pets finding syringes, and drug transactions taking place.
With minimum or no lights on some streets, parks, and reservoir areas, it makes for an unsafe place for home owners and tenants. Neighbors in Central Lawrence complain of loud noises and speeding. But above all, each complains on the lack of police visibility in their areas unless some crime occurs. Begin by tackling the lowest crimes and place strategies on blocking the flow of drugs. Seeking federal monies for drug treatment center will only add a treatment center to Lawrence – we have too many treatment centers already.
Let's discuss Graffiti
What starts a drug zone? Graffiti, cars speeding, over-concentration of alcohol and tobacco billboards, trash, etc. do. Get my drift? The more social disorder and graffiti in a neighborhood, the louder the message is sent that "nobody cares." This sets off a vicious cycle that encourages further crime in affected neighborhoods.
Graffiti is often the first sign that gangs are taking over a neighborhood. Gangs use graffiti as their street "telegraph," sending messages about turf and advertising their exploits. Graffiti identifies territorial boundaries, lists members, and communicates threats to rival gangs.
City government needs to take more action against business owners and home owners of ensuring graffiti comes down as fast as it went up. But, local government should be responsible to combat graffiti with more than just a pick-up truck and a power washer. A comprehensive plan requires that local government work with private owners to assist in removing graffiti. This could be done as an emergency measure by-passing all those stupid rules of government prohibiting doing private owners' work. If done on an emergency measure, local government can remove the graffiti and then charge to owner or business for the removal. This city has had many temporary laborers in the city and I can't seem to see any improvement. For goodness sake, the quality of life is important!
With the above, I provide Mayor Rivera some ideas and I hope he does something because it seems that his message is that he does not care or will not combat smarter and harder to fight crime. Does he not understand that even if crime has not increased, the lack of action will lead to increases in residents' perceptions of crime? The level of disorder will lead them to assume that crime, especially violent crime, is rising, and making them feel less secure and more fearful.
The suggested result of this is that people will avoid using the streets and have less contact with others, thus reducing community bonds, and installing individual's isolation. The resultant effect is that these environments also make a neighborhood more vulnerable to crime. But it will also have the same impact on the criminals. If criminals believe the same, then crime goes up. This shows how everything can contribute to the problems and perceptions of crime in a given community.