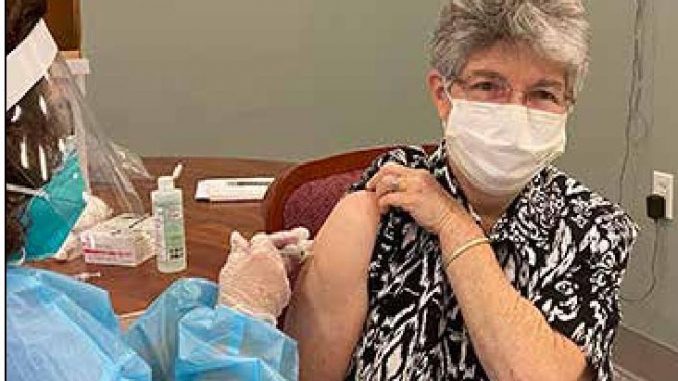 The COVID-19 pandemic has been devastating for our city. Although the ongoing crisis has affected the entire country, it has particularly hurt economically disadvantaged communities like Lawrence. Almost 200 residents have tragically died from the disease, and over 1 in 6 people have been infected. Thousands more have lost their jobs, local businesses have gone bankrupt, and families are struggling to make ends meet. On top of this, many of us have not been able to spend time with our loved ones, friends, and neighbors for close to a year.
Simply put, COVID-19 has upended our way of life. The COVID-19 vaccine will allow our community to begin to recover. All available COVID-19 vaccines are safe, effective, and free for the public. Unlike some other vaccines, the approved COVID-19 vaccines do not actually contain the live virus. Instead, they teach our bodies how to recognize and stop the infection.
Getting vaccinated will not make you get sick with COVID-19, but it will help prevent you from getting the disease going forward.
All COVID-19 vaccines were administered in clinical trials to tens of thousands of people from a diverse set of backgrounds. The vaccines were found to be around 95 percent effective against COVID-19, and they caused no serious side effects. Doctors and other medical experts approved the vaccine for public use, and millions of people have been safely vaccinated so far.
In Massachusetts, the COVID-19 Vaccine Advisory Group worked to develop a comprehensive plan for distributing the COVID-19 vaccine in an efficient and equitable manner. This 17-member Advisory Group included doctors, public health experts, and community leaders like Lawrence's Mayor Dan Rivera. In Massachusetts, vaccine eligibility will not be restricted based on immigration status. In fact, it is illegal for any healthcare provider to share the immigration status of anyone seeking the vaccine.
Currently, healthcare workers, residents and staff in nursing homes, and first responders are eligible to be vaccinated. Starting next month, eligibility is set to expand to include people above the age of 75 and people with multiple severe health conditions. Subsequently, workers in occupations with a high risk of exposure to COVID-19 (like grocery store workers, teachers, or transit workers) will be eligible, followed by all adults over the age of 65. The rest of the public will be eligible after that.