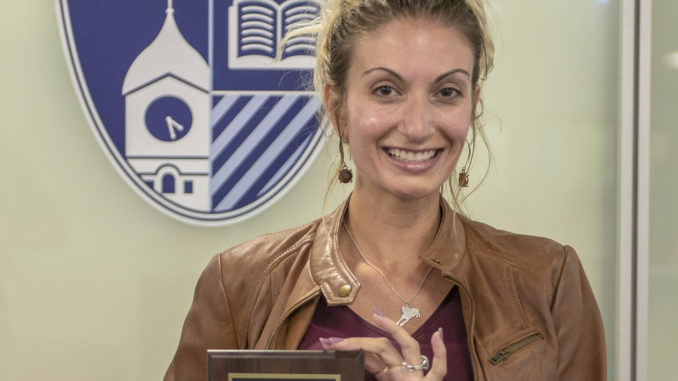 Lawrence, Mass. (Sept. 25, 2020) – Stacey Ciprich, principal of Abbott Lawrence Academy at Lawrence High School, has been presented the 2020 Educator of the Year Award by the Massachusetts Association for Gifted Education (MAGE).
MAGE presents the honor annually to "an exceptional Massachusetts educator who supports highly able, curious, creative and talented students by providing them with services and opportunities." The surprise announcement came from MAGE Board member Janis Baron during a Zoom call with administrators, staff and students.
Reading her own letter nominating Ciprich for the honor, she cited ALA's strong school culture, 100 percent 2019 and 2020 graduation and MCAS passing rates, and lengthy list of college acceptances and scholarships.
"If there are any moments when Stacey is not thinking of her students and staff and ways to make things even better at ALA, I am guessing that she is probably sleeping," said Baron. "And I am also guessing that she is, even then, dreaming about them."
Ciprich has led Abbott since its launch as a first-of-its-kind accelerated studies school in 2015. Named for the industrialist who founded the city, it combines a personalized, rigorous honors education of top independent schools with the robust, diverse enrichment opportunities of the LHS campus.
"I don't do this work alone," she said. "And I couldn't do it without my Assistant Principal Raul Cruz, our amazing teachers, the support of LHS leadership, and of course the Abbott students and families. They are why this place is so special to me and to the city of Lawrence."
"From the very beginning Stacey had a vision of Abbott Lawrence as a place for our students to reach their very highest potential, and she has never wavered from that vision," said LPS Superintendent Cynthia Paris. "This recognition is a testament to that. Congratulations to Stacey, and to all the incredible staff and students at Abbott."
Ciprich also took the opportunity to emphasize that the application process for ALA 2021-22 school year will begin in early October, and interested students and families should check AbbottLawrenceAcademy.org and @we_are_ALA on Twitter in the weeks ahead. Abbott currently has 19 alumni on full scholarships at Merrimack College through the Pioneer Scholars Program, and valedictorians at Harvard, Yale, Brown, Georgetown, Northeastern, Carleton and Boston College.
The Massachusetts Association for Gifted Education (www.massgifted.org) has been committed to supporting gifted education for 43 years, and is an affiliate of the National Association for Gifted Children.