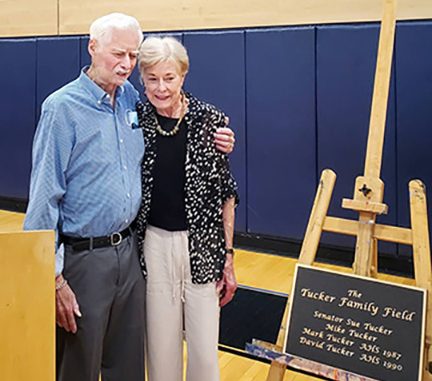 Andover Residents and Community Leaders Hosted Dedication of Tucker Family Field on June 6th
Event featured unveiling of ceremonial plaque and speeches from family and friends on Sunday, June 6th.
Andover residents and community leaders gathered together at a dedication ceremony for the newly-named Tucker Family Field, located behind Doherty Middle School and next to the Youth Center on Whittier Street.
Last August, the Andover School Committee voted to name the track and field area in honor of longtime local leaders Susan and Mike Tucker, as well as their sons Mark and David. The dedication on June 6th featured the unveiling of a ceremonial plaque, speeches from family and friends, and celebratory cake and lemonade.
Susan Tucker represented Andover for twenty years in the Massachusetts Legislature, serving first as a State Representative from 1983 to 1992 and then as a State Senator from 1999 to 2010.
During her tenure, she held stints as Chairwoman of the Housing Committee, Chairwoman of the Committee on Elder Affairs, Vice Chairwoman of the Telecommunications & Energy Committee, and on several other committees. In 2003, she helped pass landmark legislation that enabled thousands of Massachusetts veterans to access state veterans' benefits, and she was named an Andover Honorary Veteran on behalf of her work.
First elected at a time when few women served in the Legislature, Susan served as a trailblazer who inspired the next generation of female leaders to get involved and run for office.
Mike Tucker, an ROTC graduate, served as a 1st Lieutenant in the U.S. Army Counter Intelligence (CIC) in the Cold War. Working with the Executive Director of Ironstone Farm in Andover, Mike helped launch a successful therapy program for veterans with PTSD.
Mike and Susan's sons, Mark and David, were both star athletes during their time at Doherty and at Andover High School. The family has been actively involved in the Andover community for decades.
The funds raised for the event exceeded the amount needed to install the commemorative boulder and plaque, so approximately $5,000 will be donated to support the Andover Youth Services' programming for Andover youth.