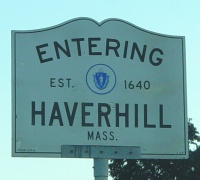 Diversity progress in Haverhill
By James F. Fiorentini
Mayor
As Haverhill gets more diverse, it is important that our boards, agencies and employees reflect the diversity of our city while we always strive to have the best and most qualified people in positions.
This week we took steps in that direction with a number of appointments.
On the Board of Health I am pleased this week to nominate Diana Sherwood of Bradford to the Board of Health. Ms. Sherwood, a nurse, has years of experience as a nurse and in the field of regulatory compliance. A native of Colombia, Ms. Sherwood becomes the first woman and the first Latina to be on the Board of Health.
On the Board of Appeals I am pleased to nominate Lynda Brown as a regular member. Ms. Brown has been serving as an alternate member.
I am also pleased to nominate Pascual Ruiz as an alternate member of the Board of Appeals.  Mr. Ruiz, who has lived for decades in the upper Main Street area of Haverhill, is the fire inspector for the city of Lawrence and the former head of Inspectional Services in Lawrence.  With a detailed knowledge of zoning and building codes he will be an excellent addition to the board.
In the police department this week we elevated Meghan Pare to the position of permanent captain. Ms. Pare is the highest ranking female ever in the Havehill Police Department. She has repeatedly topped all the promotional exams and has been for several years an outstanding member of the department.