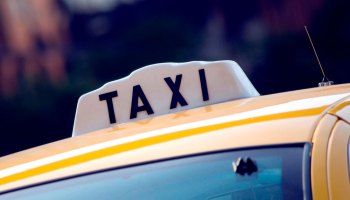 Taxis Dispatched to Help Methuen Residents
The City of Methuen receives $80,766 from MassDevelopment, MAPC to provide Transportation Service to residents in need
The City of Methuen is the recipient of an $80,766 award from MassDevelopment, in partnership with the Metropolitan Area Planning Council (MAPC), through the Taxi, Livery, and Hackney Transportation Partnerships Grant Program, an operational subsidy program aimed at expanding transportation service capacity through contracts with licensed taxi or livery businesses.
Mayor Perry intends to use this grant to assist residents of the City of Methuen with transportation to work, grocery, non-emergency medical appointments, and vaccine appointments, as well as to facilitate delivery of essential supplies such as food to residents in need via the Methuen Cares Center.
The Taxi, Livery, and Hackney Transportation Partnerships Grant Program is funded by MassDevelopment's allocation from the Commonwealth's Transportation Infrastructure Enhancement Trust Fund.
The City of Methuen has partnered with Methuen High Class taxi service to facilitate Methuen Cares food pantry deliveries, and the transition in delivery service has been seamless. Methuen High Class is also the city's partner to provide transportation to medical appointments, grocery stores, pharmacies, and public transit stations for seniors, individuals with disabilities, veterans, and residents in low-income households as long as grant funding allows.
Methuen's senior residents, veterans, essential workers, residents of public housing, and residents searching for employment can secure qualifying transportation services by emailing MethuenCares@ci.methuen.ma.us or calling (978) 609-1866. Requests must be made at least 48 hours in advance of need.
"As Methuen residents lift themselves up from the devastating economic impact of the pandemic, we want to do all we can to provide necessary support", said Mayor Perry. "I applaud the Baker-Polito Administration, MassDevelopment President Dan Rivera, Housing and Economic Development Secretary Mike Kennealy, and Metropolitan Area Planning Council Executive Director Marc Draisen, and their teams working so hard to providing this essential service.
Methuen Chief of Staff Jana DiNatale will work with Methuen High Class Taxi and the Methuen Cares Center to implement the grant and launch the free service. "The Methuen Cares Center has offered much-needed food pantry services to residents during the pandemic, and this program is a wonderful addition to the center's offerings," said DiNatale.
The Commonwealth's Transportation Infrastructure Enhancement Trust Fund was created by An Act Regulating Transportation Network Companies, which Governor Baker signed into law in August 2016 and is supported by a 20-cent assessment on every transportation network company ride in Massachusetts. One-quarter of the Fund is being designated to MassDevelopment to provide financial assistance to small businesses operating in the taxicab, livery, or hackney industries.
Mayor Perry noted, "This grant is a wonderful example of maximizing every available dollar to meet a community need, and our team here in Methuen did a fantastic job securing this grant benefit for our residents We will continue to pursue every available opportunity to make our community the best it can be."