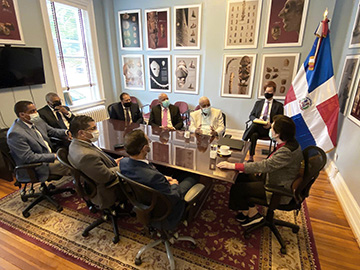 Dominican visitors in Lawrence, Washington
Very little coverage was given to the visit of dignitaries and my curiosity was tempted by the lack of information.  There are many questions and I needed to find out.  Looking for details, I turned to Facebook, and lo and behold, Joel Chalas had most of what I wanted and created new questions.
What follows is not a direct translation because it was poorly written but the essence is this:
I had the opportunity today of going to Washington, D.C. with Mayor Kendrys Vasquez and the Honorable Consul Ramón Antonio Cruz who is always working for our community's benefit.
For me it was more than a pleasure to accompany them along with that important commission.
Ambassador Sonia Guzmán welcomed them and they discussed issues concerning the Dominican community.  Also on the trip were Franklin Miguel, director of Lawrence DPW; Alfredo Arias, leader of the Partido Revolucionario Moderno (PRM) en Massachusetts; Adonis Rodríguez, leader of the PRM; Rodny Jiménez, a Washington D.C. businessman; and Joel Chalas, a businessman in the City of Lawrence Massachusetts.
Mr. Chalas has many photos on his page which are shown here describing where they went and who they talked to but there was no substance.  Some Dominicans who are knowledgeable of how their politics work told me that it's election time.  Candidates go around promising big deals and after winning nothing gets done.  There are many incomplete promises back home, they told me over and over again.
I went through old Rumbo issues to see if that was the case in Lawrence.  What jumped out was how often candidates for mayor and even council promise that will improve education; it sounds good but neither has anything to do with the public schools.  People go for them and nothing happens.
Notice that everybody talks about improving housing and creating more because that's what people want to hear and they fall for it.
This visit had to do with garnering votes in Lawrence and back home.
The head of the Dominican commission was Victor Pichardo, executive director of the Airport Department in charge of 28 airports in the country.  He is the one with the agenda and very little information has been provided.  They first visited Lawrence General Hospital and their Med Flight operation.  From there, a visit to Lawrence Airport and a visit to the Med Flight office before meeting with Airport Director Michael Miller who gave them a tour answering their questions.
The purpose of learning about Med Flight is that they want to implement ambulance service between both countries to bring patients on their way to Boston hospitals.  These were only preliminary conversations and there are many details to overcome.
Mr. Miller was impressed by their interest in bringing the methods used running the facility while Mr. Pichardo said he would like to establish them at home.
The Interim Mayor Vasquez suggested creating a charter service.  Upon questioning Mr. Miller regarding customs personnel, immigration, and TSA, he told me that they don't have anything like that but it could be done.
Another idea from Kendrys was bringing agricultural products directly from the Dominican Republic, closer to the business community.  Sounds good, as well, but the Department of Agriculture is very strict with products entering the country and, assuming they find the way to approve it, they must build a refrigerated warehouse, which the Lawrence Airport cannot afford.
They also visited the office of Congresswoman Lori Trahan in Washington, D.C., and Ambassador Sonia Guzmán but the reason for these visits is unknown but a Dominican newspaper, Diario Libre published an article by Ramon Santos Identifican Areas Inversión Favor de Dominicanos (Identify Investment Areas to Benefit Dominicans) without going into details.
Kendrys Vasquez said that "This agreement and many programs that will be developed as a result will promote commerce, tourism, and culture in Lawrence, which will benefit Dominicans directly because they represent a majority within the Hispanic community in Massachusetts."
Meanwhile, Joel Chalas who was given the title of "link" between the mayor's office and the Dominican Embassy said, "With these conferences, we try to unify more the Dominican Community in the exterior."  Chalas is a foreman in the Department of Public Works.
If you want to confirm these details, watch the Airport Commission meeting of May 20, 2021, on Facebook or YouTube.