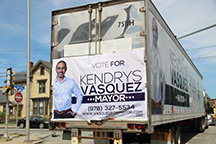 Semi Trailer, Fully Illegal
By Dalia Diaz
The semi-trailer that bears Interim Mayor Kendrys Vasquez's face and campaign signs is an unregistered and illegally operated trailer in the City of Lawrence. It's being paraded, and parked, around the city right in front of the noses of law enforcement officials.
In accordance with Department of Transportation (DOT) laws, the semi-trailer must be registered with DOT. A recent inspection of the semi-trailer by Rumbo, while parked at a nearby vacant lot on Broadway, found not VIN number or registration on the trailer itself.
Additionally, the semi-trailer had expired semi-permanent Maine license plate (3312459) expired on February 29, 1993.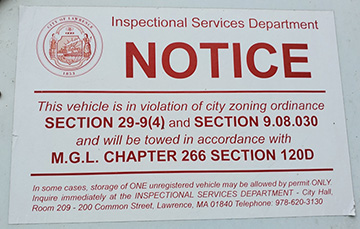 What was found was some bogus number written with a permanent marker on DOT c2 reflective tape with the number TR00204205, TR stands for the word trailer. Code of Federal Regulations (CFR), 23 CFR Part 658 indicates the laws for ensuring semi-trailers have VIN numbers on the left side (driver's side) of the trailer. This one did not have VIN or DOT. The written numbers were run into the DOT system to no avail.
This leads Rumbo to one, and only one possible conclusion: Interim Vasquez is utilizing an illegal vehicle for his purpose, and possibly paying the owner for the service, while driving illegally in the City. The illegal vehicle has no inspection associated. Rumbo is sure that the vehicle has been moved several times throughout the streets of Lawrence. The Lawrence Police Department has not even run a check in their systems.
One thing for sure, Rumbo found that the Inspectional Services Department of the City is doing its job, even if the Lawrence Police Department is not. A notice was issued to the vehicle stating that it was in violation of the city zoning ordinance (see photo). Remember these ordinances? The very same ordinance that Mayor Dan Rivera fought to have in place, with the council to protect the residents from having large trailers parked in and around the city taking up valuable parking space.
It will be interesting to see, if Interim Mayor Vasquez OCPF filings, what in-kind contribution is placed for this semi-trailer.