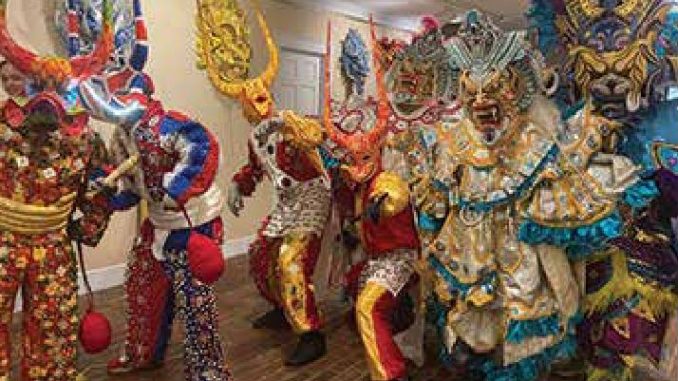 Dominican Carnival Celebration
By Audy Ramirez
This Saturday, October 15, culminates at the City of Haverhill's Buttonwoods Museum, the Dominican Carnaval Costume Exhibition. Said exhibition was published by this same media outlet and author weeks ago as a means of informing the community, and especially the readers of this outlet, about such an important cultural event.
I had the pleasure of being invited as a representative of Rumbo to participate in a magnificent celebration party. I was impressed with the kindness that I noticed and received, not only from its promoters and organizers, but also from the rest of the guests at the event. And it is as I expressed to Mrs. Janice Williams, Director of the museum, "Is there a better way to celebrate the success of such an important cultural work than by inviting the people who collaborated and gave part of their time so that said exhibition ended with a resounding success?
As a Dominican at last, I felt honorably happy and honored that a small part of my small island was taken into account to be exhibited and valued by people from another country. In special attention, I refer to Mrs. Janice, who with a great and very human kindness, not only made available her space in the museum that she directs, but also put all the effort possible in her power so that everything went at the highest possible level.
All for the love of art, culture and above all the understanding of ourselves as human beings with different ways of seeing life, different cultures, traditions, in short, different people. How beautiful it was for me to hear a lady of apparently Asian descent asking what the costumes on display meant and how important they were to be exhibited!
I felt much better when one of the presenters/organizers of the event explained to him in English the meaning and importance of the characters and their costumes. What region did they come from during the colonial era and what was the contribution of the civilizations already existing on the island at the time that the beautiful mixture that we exhibited with so much pride emerged, and that unfortunately due to ignorance or lack of knowledge many people do not respect nor does it minimally present the value that they truly have.
The same feeling I felt during the carnival part, where a group of very talented young people brought by the famous and highly respected Massachusetts Carnival Association, presented us with a replica of the Dominican carnival, with a number one choreography at all levels. Seeing the happy faces of the contestants joining the lame devils on stage and dancing along with them was extremely beautiful!
From this very humble space, I want to thank you infinitely for the invitation to experience such pleasant and beautiful moments that took me back to my childhood years in my beloved land where I was born, the Dominican Republic. Congratulate and cordially thank Mrs. Janice Williams who, together with her husband, was able to take the time for such an important presentation.
Also to all the collaborators who pledged their time, effort, work and talent to achieve such a beautiful feat. Also to the members of the community in general who during these weeks used their time to support and enjoy the exhibitions at the Buttonwoods Museum in the City of Haverhill.
And finally I also want to reflect a little. We, as a community, must use the example that Mrs. Janice Williams gives us in the sense that culture, traditions, history, art do not have to have a barrier that prevents anyone from knowing.
The work done by Mrs. Janice these days should be a point of reference for each one of us as members of this community called the world. Said actions, being copied and reinvented by all of us, would contribute to the creation of a more humane and more supportive world than it is.
The example I just took in this exhibit is simple: You can still do it!
Congratulations dear Haverhill City community!
Congratulations dear community of the state of Massachusetts!
Congratulations, dear global community, although we still have a lot to do… A lot!
The Asociación Carnavalesca de Massachusetts installed their exhibit of Dominican Carnaval Costumes. The exhibit will be on display until October 15 during National Spanish Heritage Month. It is sponsored by the ENHA Creative County Initiative and the Cummings Foundation.
La Asociación Carnavalesca de Massachusetts instaló su exhibición de Disfraces de Carnaval Dominicano. La exposición estará expuesta hasta el 15 de octubre durante el Mes Nacional de la Herencia Española. Está patrocinado por la Iniciativa del condado creativo de ENHA y la Fundación Cummings.