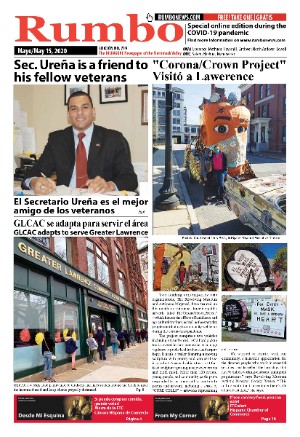 After 24 years of work, in 1994 Alberto decided to retire. Dalia, much younger, was still working for the School Department. Her job was to highlight the good things they did for the education of our children. To do this, she wrote press releases that she sent to every newspaper circulating in the city. Needless to say how much she suffered when her reports were ignored. My answer to her was always the same; if they ignore you, start your own newspaper.
Having repeated my advice for two consecutive years, finally, in 1996 it was decided. The name Rumbo was chosen. The first problem we encountered was where to print it. We went to LaPlume and Sons Printing Co., seeking advice. "What you need is a printing press where newspapers are printed," we were told at LaPlume.
Luckily, chatting with a friend, he recommended Seacoast Media Group, in Portsmouth, N.H. There, we started printing and we continue.
Our first edition on May 15th was dedicated to the Malden Mills disaster and how owner Aaron M. Feuerstein was struggling to keep all his employees on the payroll until reconstruction was completed.
Time flies. It is hard to understand where the years have gone except for the memories they left, the wonderful events we have covered, the wonderful people we have met, and the good friends we found in the process. Our motivation from the start was to inform residents of local news and as such, we focused on the events in the Merrimack Valley.
Twenty-four years later, our interest has not changed and we pride ourselves on trying hard to bring the good news to our neighbors and break the language barriers that sometimes separate us.
During all these years we have learned many things. We understand this community much better than before. Covering events has been the easiest way to see our differences and also the similarities. We crave and work for the same things in life and when we treat each other with respect, we see that we are the same no matter what language we speak
We came to live in Lawrence because we liked the city. As we learned 'how it works', we came to feel deep respect for its history. We wanted to contribute so that future generations appreciate what we leave behind. When we started, the future was uncertain; no one could predict success, particularly when none of us had a notion of journalism, but the need for local information existed and we ventured.
That has not changed yet we do not consider ourselves journalists but our hearts are in the right place hoping that this city will be a little bit better because Rumbo was once here. Thank you to all who have helped make these twenty-four years a beautiful experience. Whether it's with their ads, writing for the newspaper, or just being available when we were looking for some information, the people of this city encourage our commitment to continue to do our best.
The year 2020 brought us a surprise for which no one was prepared, the COVID-19, not only for personal safety but because the distribution sites were closed, we decided to cancel the printed edition of Rumbo, the last one was edition #710 on March, 15th.
That is why we do not stop publishing the newspaper, this time in its digital edition. Our commitment to the community to bring you information has not changed at all.
Since we are not magicians, we cannot predict when we will start printing again. We leave that to the Supreme Being that governs our destiny.