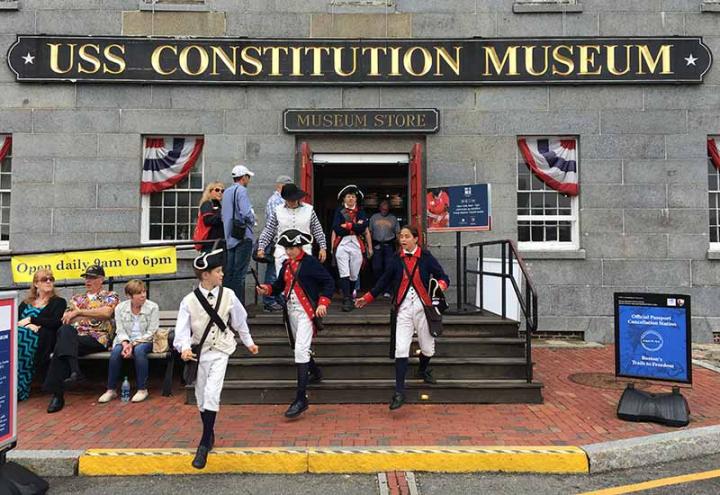 The Highland Street Foundation's Free Fun Fridays 2019 program will hit Boston's iconic Freedom Trail® on Friday, August 23 by offering free admission to 14 Freedom Trail Foundation-led tours.
Highland Street Foundation's Free Fun Fridays offers no-cost admission to many of Massachusetts most treasured cultural venues, like the Freedom Trail, to increase access and enrichment opportunities for children and families during the summer months. Now in its eleventh year, this 10-week program has and will open doors to cultural institutions through August 30 at 10 venues each Friday.  Over 100 venues are participating in the program and, since its inception in 2009, Free Fun Fridays has drawn more than 1.2 million visitors to a range of institutions celebrating arts, culture, and history.
Led by Freedom Trail Players® dressed in 18th-century costume, complimentary 90-minute Walk Into History® Tours will step off from Boston Common at 10:30 a.m., 11:00 a.m., 11:30 a.m., 12:00 p.m., 12:30 p.m., 1:00 p.m., 2:00 p.m., 2:30 p.m., 3:00 p.m., 3:30 p.m., 4:00 p.m., and 4:30 p.m.
North End Tours will be offered at 1:30 p.m. and 2:30 p.m. departing from the ArtsBoston Booth at Faneuil Hall.  All tour tickets, including North End Tours tickets, will be distributed on a first-come first-served basis from a temporary ticket giveaway station located near the on the Boston Common near the intersection of Tremont Street and Temple Place starting at 10:00 a.m. through 3:00 p.m.
Tour tickets for the 3:30 p.m., 4:00 p.m. and 4:30 p.m. tours will be distributed in front of the Boston Common Visitor Information Center (139 Tremont Street).
In order to help ensure a fantastic Freedom Trail experience, the Foundation will limit the number of tickets to 60 per tour.  Due to expected crowds, groups of 10 or more must call the Freedom Trail Foundation regarding availability.  For more information regarding the Freedom Trail Foundation's Free Fun Friday on August 23, please call (617) 357-8300.
Additional Free Fun Fridays opportunities to enjoy along the Freedom Trail will take place on August 16 at the USS Constitution Museum.
To learn more about the Free Fun Fridays and the Highland Street Foundation, visit www.highlandstreet.org