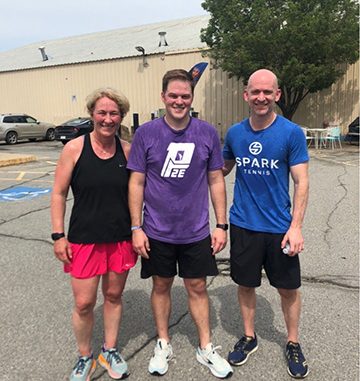 Hike for Hope 2021 Hike event raises $130,000 to help alleviate food insecurity.
Communities collaborate to raise $130K for families facing food insecurity.
Lazarus House Ministries hosted its 22nd annual HIKE for HOPE Challenge, a virtual/in-person 5k walk/run, with returning Premier Sponsor, New Balance Foundation, on the May 22nd weekend. It was a 3-part challenge that included the hike, food collection, and fundraising. It was a 200-strong community gathered through the Charge Running APP for the greater good many of whom walked the Andover route and stopped at the check points to win prizes at Town Hall, Spark Fitness, A3 Fitness and Free Christian Church.
Marieinez Bernal, who won the Most Social Individual prize said "'Wow!! We are the champions, and this is an amazing feeling to support and to be supported".
Emcee Kennedy Elsey from Mix 104.1 and Lazarus House front line staff encouraged the walkers to keep going for our Guests
Special thanks go out to our Co-chairs Amy Finegold, Adam Molda of Spark Fitness, and Audra Palermo of A3 Fitness for their pivotal role in raising this money to alleviate the increasing levels of food insecurity for our Guests. We know that God equitably distributed talent and gifts, but our world does not equitably distribute opportunity – That's where Lazarus House steps in.
The idea of the Challenge is to help promote wellness by getting others to walk/run together while raising awareness and critical funds to support families who struggle with food insecurity to put food on the table. For the past 38 years, Lazarus House has provided programs and services to support and empower families and individuals struggling with food insecurity, poverty, and homelessness. Throughout the pandemic, Lazarus House has focused on maintaining food distribution, shelter, and housing for families.
The number of Guests coming to our food pantry and our soup kitchen has increased exponentially, said Jeff Hassel, Lazarus House's Executive Director. "We added staff and safety protocols to keep our vital programs open and our Guests and staff safe. The support of our generous community will allow us to open doors for more than 25,000 families every year, a number that keeps growing as our community grapples with myriad challenges posed by COVID-19. We are extremely fortunate to have such amazingly generous co-chairs, volunteers, staff, and corporate partners supporting us. This event exemplified the support Lazarus House receives from the community."