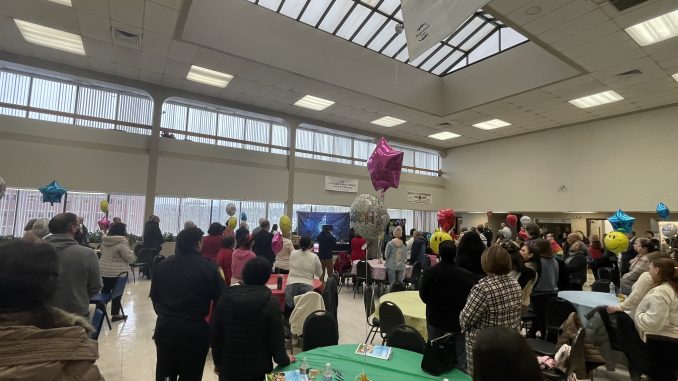 La Coalición Latina de Haverhill inicia un nuevo año con una celebración de gala
Más de 200 personas se reunieron en el Centro de Ciudadanos de Haverhill el 22 de enero de 2023 para una celebración de los logros de la comunidad, organizada por la Coalición Latina de Haverhill.
El recién electo presidente de la Coalición, Argenis Marte, dio la bienvenida a los miembros de la comunidad latina, los funcionarios electos y la policía de Haverhill, e invitó a la multitud a aplaudir los logros de 2022 y mirar hacia las posibilidades para 2023.
Entre los asistentes estaban el Alcalde de Haverhill James Fiorentini; el Jefe de Policía de Haverhill, Robert Pistone; los senadores estatales Barry Finegold y Pavel Payano, y los representantes estatales Andy Vargas y Ryan Hamilton así como el Alcalde de Lawrence Brian A. De Peña.
In attendance were School Superintendent Margaret Marotta; city councilors Tim Jordan, John Mitchinson, and Melinda Barrett.  Also, Richard Rosa, school committee member and Eunice Ziegler, Chair of the Methuen City Council.
El Senador Payano presentó una mención oficial del Senado de Massachusetts a la Coalición Latina de Haverhill, MA, en reconocimiento a su "firme compromiso con la comunidad latina y la ciudad de Haverhill".
La DJ Eridania Nieves (ERI Entertainment) entretuvo a la multitud y varios negocios latinos locales generosamente donaron refrigerios y premios.
La Coalición Latina agradece a nuestros patrocinadores: High Street Market, Jaqueline's Convenience Store, D'Empanadas, Pollo Centro, Sebastian's House of Toys, Canela Market, Raquel Quesada, Yonatan Quesada, Leydi Diaz-Breton, GEM program, HHS, y Make It Haverhill.
El principal de los logros de la Coalición Latina en 2022 fue su exitosa colaboración con el Alcalde Fiorentini, el Concejo Municipal y el Representante Vargas para cambiar el sistema de votación de la ciudad. Ahora, los representantes de cada uno de los siete distritos de Haverhill pueden ser elegidos para servir en el Concejo Municipal y el Comité Escolar.
"Ahora podemos tener representación de todos los vecindarios de nuestra ciudad tanto en el Concejo Municipal como en el Comité Escolar. Una voz para todos", dijo el Presidente Marte.
En el futuro, la Coalición Latina de Haverhill comenzará a reunirse con grupos de residentes en los distritos 1 y 3 para alentar a los posibles candidatos a postularse para un cargo este otoño. Aunque la Coalición no respalda a candidatos individuales, puede brindar orientación sobre cómo navegar el proceso electoral.