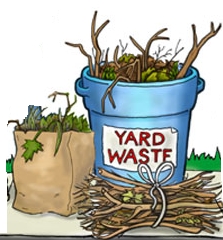 Laplante Calls Out Lawrence Trash Hauler
Lawrence City Council President Marc Laplante (District F) has issued a formal complaint to Mayor Brian A. De Peña regarding the inadequate trash pick-up throughout the city, primarily yard waste.  Republic Industries recently acquired JRM Industries and now has the city's waste hauler contract.
"At this time of year, yard waste is scheduled to be picked up weekly. Residents have often waited 2-3 weeks for yard waste pick-up. Even after calling JRM/Republic, their yard waste remains," said the South Lawrence East city councilor.  "It is unacceptable."
Laplante has heard from numerous residents who have expressed their frustration with missed pickups and inadequate service.
"I am told that there are lines at the Covanta site where the waste is deposited and that the long lines to dump the material is causing a backlog in residents getting their yard waste picked up," said Laplante. "Regardless of if this is true, our residents are running out of patience. Taxpayers are paying $3.9 M this year for hauling our trash, recycling and yard waste. We need to know what is happening and what can be done to properly honor the waste hauling contract."
Laplante is asking for Mayor De Peña's intervention to provide the service required in the contract.
"I know that the Mayor shares my frustration. I've let him know that he can count on my assistance to correct this situation."