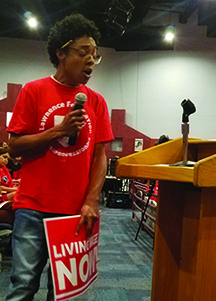 Paraprofessionals continue to beg for a living wage
By Dalia Diaz
Teacher aides working for the school system continue their rallying at the monthly meetings of the Lawrence Alliance for Education.  The schools' administration has never given a word of hope or recognized that Lawrence Public Schools is in a state of crisis.
Although they keep contacting local politicians with their complaints, paraprofessionals are aware that the administration cannot do anything while the schools are under the Commonwealth's control.  While Mayor Brian De Peña was not present at this meeting, he is trying to find out how this can be done so that he can make decisions on this and other matters about our education system.
One change that we noticed at this session was that Dr. Ventura Rodriguez left and Patricia Mariano was appointed Interim Chair by Jeffrey C. Riley, Commissioner of Elementary and Secondary Education.  We find that to be a very promising step towards returning control of the schools to us.
Their main complaint was that they are not receiving proper compensation.  While they have been working for many years, (some as many as over 20 years) they still earn $18-$19 per hour, newly hires get $22 because they cannot find people willing to do it for less.
We witnessed some powerful testimonies from the workers, including the following:
Samaria Cruz was a paraprofessional for years and went to school to become a teacher herself.  She was given a teaching position and later was let go.  Now, she's back where she started.
Wilmington Paulino came in defense of his wife and said to the board, "I wonder why when I come home my wife is passed out on the sofa."
Many workers were stating their grievances like Bridget who said, "I'm 78 years old and I have to work 2 jobs to pay my rent!"
The best presentation was from Morre, who works at the School for Exceptional Students.  "Let's pretend that you, the audience, and the board are my students," he said to show how he conducts his classes.  "We teach our students all about respect, responsibility, and honor; but I can tell you that unless we get some respect, you will not repair this relationship."