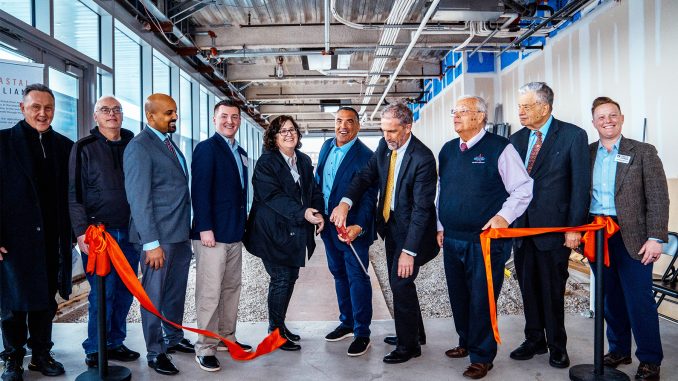 Lupoli corta la cinta para la inauguración de un restaurante en Haverhill
El 21 de febrero, Sal Lupoli, el Alcalde de Haverhill, James Fiorentini, el Presidente de la Cámara de Comercio de Merrimack Valley, Joe Bevilacqua Sr., la Presidenta de la Cámara de Comercio de Haverhill, Alexandria Eberhardt, el Presidente de Northern Essex Community College, Lane Glenn, y muchos dignatarios y funcionarios locales cortaron la cinta para la inauguración del restaurante italiano costero BOSA, que se inaugurará en The Heights at Haverhill a finales de este año.
Durante el programa, Joe Bevilacqua Sr. habló con franqueza sobre los problemas que han tenido los restaurantes en los últimos años, incluidos los problemas de la cadena de suministro, el costo de los materiales y la escasez de personal. Aplaudió a Sal Lupoli por continuar con su compromiso de abrir lo que dijo sería "uno de los restaurantes más conmovedores al norte de Boston".
Lane Glenn habló sobre lo emocionado que está de volver a asociarse con Lupoli. El Instituto Culinario de Northern Essex Community College está ubicado en el segundo y tercer piso del edificio The Heights.  Lupoli previamente prometió $1,500,000 en apoyo del Instituto Culinario de la Familia Lupoli.
"Estamos muy entusiasmados con esta asociación", dijo Glenn. "Nuestros estudiantes tendrán la oportunidad de trabajar en BOSA y perfeccionar su oficio con verdaderos líderes en la industria hotelera".
El Alcalde de Haverhill, Fiorentini, contó a la audiencia la historia de cómo Sal Lupoli llegó a hacer negocios en Haverhill.
"Cuando vi lo que hizo en el Riverwalk en Lawrence, me quedé atónito. Quería eso en Haverhill", dijo el Alcalde Fiorentini. "Le pedí a Sal que fuera a dar un paseo en mi automóvil y lo llevé a un terreno disponible en el centro de Haverhill. Su respuesta fue un rotundo sí".
"Tuve mi segunda pizzería en Haverhill hace 30 años", dijo Lupoli. "Siempre he amado esta ciudad y creí en las oportunidades que hay aquí. Estamos muy agradecidos por la paciencia del concejo municipal, el alcalde y la noble pueblo de Haverhill. Con la contratación de nuestro nuevo vicepresidente de construcción, Gary Armstrong, estamos listos para comenzar y comenzar a construir un hermoso restaurante nuevo para que todos disfruten en los años venideros".
El nombre de BOSA proviene de un pequeño y colorido pueblo de pescadores en la provincia italiana de Oristano, parte de la región de Sardinia en Italia. Con vista al Río Merrimack y ubicado en un ambiente amplio y luminoso con ventanales del piso al techo, BOSA ofrecerá un ambiente luminoso y colorido perfecto para cualquier reunión.
El menú de BOSA, influenciado por la generosidad del Mediterráneo y la agricultura de la región, exhibirá sabores ligeros y simples que destacan los mariscos, la pasta hecha a mano y la pizza exclusiva de Sal. El programa de bebidas de BOSA incluirá las mejores cervezas y vinos italianos provenientes directamente de Italia, junto con un menú creativo de cócteles artesanales.
Mientras que el Restaurante Italiano Costero BOSA se ubicará en el primer piso de The Heights, el bar BOSA será otro lugar en el piso superior, brindará vistas impresionantes, una gran cantidad de asientos al aire libre y espacio funcional para hasta 200 invitados.
El Chef Ejecutivo Jimi Gallant, quien ha estado con Lupoli durante 11 años y fue responsable de la apertura de 34 Park, le dijo a la audiencia que tiene algunas ideas muy creativas bajo la manga para el nuevo restaurante.