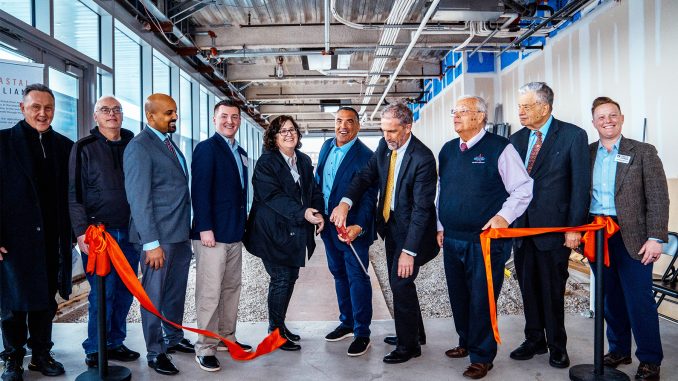 Lupoli Cuts Ribbon for Restaurant Groundbreaking in Haverhill
On February 21st, Sal Lupoli, Haverhill Mayor James Fiorentini, Merrimack Valley Chamber of Commerce President Joe Bevilacqua Sr., Haverhill Chamber of Commerce President Alexandria Eberhardt, Northern Essex Community College President Lane Glenn, and many local dignitaries and officials cut the ribbon for the groundbreaking of BOSA Coastal Italian Restaurant, opening at The Heights at Haverhill later this year.
During the program, Joe Bevilacqua Sr. spoke candidly about the issues restaurants have had in the last few years including supply chain issues, cost of materials, and staffing shortages. He applauded Sal Lupoli for continuing with his commitment to opening what he said would be "one of the most exciting restaurants north of Boston."
Lane Glenn talked about how excited he is to be partnering with Lupoli again. Northern Essex Community College's culinary institute is located on the second and third floor of The Heights building. Lupoli previously pledged $1,500,000 in support of the Lupoli Family Culinary Institute.
"We are so excited about this partnership," said Glenn. "Our students will have the opportunity to work at BOSA and hone their craft with true leaders in the hospitality industry."
Haverhill Mayor Fiorentini told the audience the story of how Sal Lupoli came to do business in Haverhill.
"When I saw what he did at Riverwalk in Lawrence, I was stunned. I wanted that in Haverhill," said Mayor Fiorentini. "I asked Sal to go for a ride in my car and brought him to a piece of land available in Downtown Haverhill. His answer was a resounding yes."
"I had my second pizza shop in Haverhill 30 years ago," said Lupoli. "I have always loved this city and believed in the opportunities here. We are so thankful for the patience of the city council, the Mayor and the great people of Haverhill. With the hiring of our new VP of Construction, Gary Armstrong, we are ready to break ground and start building a beautiful new restaurant for everyone to enjoy for years to come."
BOSA's name comes from a small, colorful fishing village in the Italian province of Oristano, part of the Sardinia region of Italy. Overlooking the Merrimack River and set in a bright, airy atmosphere with floor to ceiling windows, BOSA will offer a light and colorful setting perfect for any gathering.
BOSA's menu, influenced by the bounty of the Mediterranean and the agriculture of the region, will showcase light, simple flavors that highlight seafood, handmade pasta and Sal's signature pizza. BOSA's beverage program will include the finest Italian beers and wines sourced straight from Italy, along with a creative menu of handcrafted cocktails.
While BOSA Coastal Italian Restaurant will be housed on the first floor of The Heights, BOSA Bar will be another venue on the top floor, provide breathtaking views, an abundance of outdoor seating and function space for up to 200 guests.
Executive Chef Jimi Gallant, who has been with Lupoli for 11 years and was responsible for the opening of 34 Park, told the audience that he has some very creative ideas up his sleeve for the new restaurant.