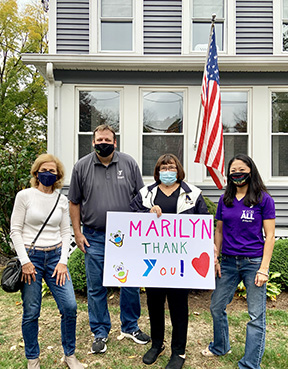 Marilyn Fitzgerald: Icon of strength and goodwill
By Dalia Diaz
This pandemic has put a damper on so many important parts of our lives that we stopped counting.  Viral meetings and events have become the "new normal" but it's difficult showing love through a screen.
That was the predicament the Merrimack Valley YMCA had this year.  They were planning to honor Marilyn Fitzgerald during their auction for her 50 years of service and due to the COVID crisis, they were not able to hold that event.
The next best thing was to organize a parade going through her neighborhood and show her in person the love she so much deserves.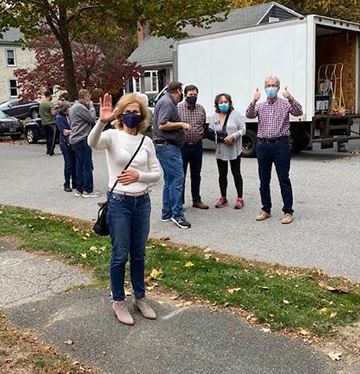 "We planned this parade very quickly because Marilyn is struggling with cancer again. She is in between treatments and surgery so we were able to pull this event together quickly," said CEO and Executive Director of the YMCA Frank Kenneally.
Among the many things Frank mentioned Marilyn has done for the Y, he mentioned volunteering for 50 years where she served as a program volunteer at camp and in the aquatics department at the Andover North Andover branch.  She has also been a policy volunteer on the Board of Directors and Board of Trustees, including presiding it. She also served on several committees including finance, cause-driven strategies, auction committee, and most recently the strategic planning task force just to name a few.
"Marilyn is a champion for our YMCA promoting our organization in the community raising funds to help us deliver our cause. She recruits others to get involved in our organization and is a mentor to many of our volunteers and staff," Mr. Kenneally added.  "Marilyn lives the YMCAs core values and it is an honor and privilege to have her leading in our Y."
50 cars participated in the parade that was led by a police escort from the ANA Y to her home.  Approximately 25 people got out of their cars and participated in a socially-distanced brief ceremony.  Marilyn was presented with a custom-made vase to commemorate her service.  There was also a basket with 50 cards from staff and volunteers.
"On a personal note, Marilyn has been a mentor and champion of my career for 30 years dating back to when I was a young Program Director at the Lawrence Y," concluded Frank.
"50 years ago I made the best decision possible. I started volunteering for The Y. Today, I was celebrated with a police escort parade, Ted Teichert's DJ services, and the thanks from family, friends, and fellow volunteers," Marilyn wrote on her Facebook page.  "My deepest gratitude to this organization that helped shape my career and life's mission. Special shout out to Y CEO and President Frank Kenneally for putting this never to be forgotten day together.'
The most remarkable aspect of Marilyn's personality is her optimism and her zest for life.  "It truly was just what the doctor ordered. In June, I have had had thyroid cancer twice, breast cancer and I was diagnosed with 2 separate cancers. Bladder and kidney. I have undergone both intense radiation and chemo for the bladder and now will have my kidney removed in November. MGH is treating me and I am doing well so far. My age (78) is a factor but my attitude puts me at 20! Anyway, the Y is where it all started for me and I am grateful to have met so many dedicated, caring people," she told me. "I intend to beat this."