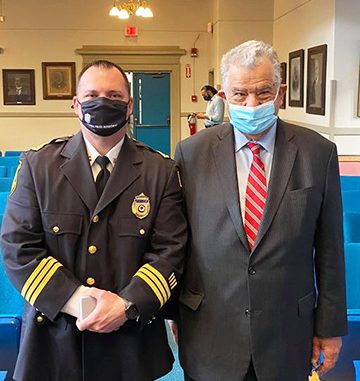 Mayor James J. Fiorentini has appointed veteran Haverhill Police Detective Captain Stephen J. Doherty Jr. to be the city's new Deputy Police Chief.
Doherty, a 26-year veteran of the Haverhill Police Department who began as an auxiliary officer in 1995, succeeds former Deputy Anthony Haugh, who retired on January 31, 2021.
Doherty, who lives in Haverhill, was sworn-in to his new position at a ceremony in the City Hall auditorium Thursday, May 13 in the morning.  Meaghan Pare will also take the oath as a permanent Captain at the same ceremony.
Doherty, vice-president of the Haverhill Police Superiors Union since 2008, has served in a supervisory or management capacity for 16 of his approximately 26 years in law enforcement.
He has headed Haverhill's Police Investigative Division since 2018. That division includes general investigations, narcotics and gangs, court prosecutor, evidence/property unit, IT/crime analysis, and media affairs. Before that, Doherty was a Haverhill patrol officer from 1998 to 2004.
Doherty is also the Haverhill Department's primary Public Information Officer.
In his resume, Doherty stressed his skills in community partnership building, leadership, and labor relations "to focus on a point of view that is committed to community-oriented service."
"My educational background, along with my diverse work experience, affords me the ability to apply sound leadership/management theories and principles to daily work situations effectively and efficiently," Doherty said in his resume.
Doherty has a bachelor's and Masters of Science degrees in Law Enforcement and Criminal Justice Administration from Western New England College.
The Haverhill Police Department is an accredited police department that serves a population of more than 63,000 residents in a 36-mile, mixed urban and rural area. There are 110 sworn officers and 21 civilian employees in the Haverhill Police Department.