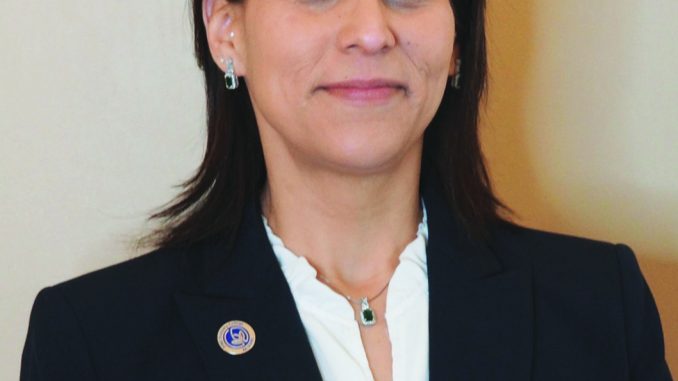 Mes Nacional de la Herencia Hispana Revisado Yesenia (Torres) Patrick
Para el Mes de la Herencia Hispana, le pedimos a Yesenia (Torres) Patrick de Kenneth H. Pollard Funeral Home en Methuen, MA, quien ha estado en el servicio funerario de tiempo completo desde 2011, que compartiera su experiencia como la única directora funeraria hispana de habla española en su condado. Ella dijo: "(Ser la única) es un gran privilegio y honor, pero también puede ser un desafío a veces.
Con el apoyo de sus compañeros de trabajo, amigos y familiares, Yesi aceptó el desafío y aprendió a prosperar en su entorno. Su origen cubano y ecuatoriano y su fluidez en español son una parte clave del valor que brinda a su firma. "He podido ayudar a muchas familias de habla hispana en la comunidad. Es sorprendente la cantidad de conexión que puede surgir al poder comprender diferentes costumbres y tradiciones".
Yesenia (Torres) Patrick, graduada de Methuen High School y con familia todavía en la ciudad, trae consigo años de experiencia, una disposición auténtica y afectuosa, y un propósito de servir a la comunidad que le ha servido bien.
Nacido en una familia ecuatoriana y cubana, Miami, FL fue su hogar antes de mudarse a Methuen en 1996 a la edad de diez años. Después de graduarse de la escuela secundaria, siguió su interés en el campo funerario al asistir y graduarse de The Funeral Institute of the Northeast en Norwood, MA en 2013.
Se destacó en su carrera como directora funeraria con licencia y embalsamadora en la costa sur específicamente para la comunidad judía. Yesenia está felizmente casada con Nathan Patrick, quien también es director de una funeraria. Juntos, actualmente viven en Methuen, donde ahora son padres de dos hermosos niños pequeños, Samuel y Daniel.
Durante los raros momentos en que está libre, lo pasa con su familia, inmediata y extendida. No es de las que se quedan en casa si tienen la oportunidad de viajar; ha tenido la suerte de visitar Cuba, España, Portugal, Ecuador, México, Canadá y todas las islas del Caribe. Ser bilingüe ciertamente la ha ayudado durante sus viajes, así como en su carrera.
Yesi se enorgullece de servir a su comunidad con una funeraria familiar y orientada a la comunidad. También se enorgullece de formar parte de la Junta Directiva de la Asociación de Directores de Funerarias de Massachusetts, del Grupo de Trabajo Estratégico de la Asociación de Directores de Funerarias de Massachusetts y de la Junta Asesora de Fine Mortuary College en Norwood.
A otros hispanos que estén considerando una carrera en el servicio funerario, Yesenia aconseja: "Nunca olviden sus antecedentes. Ha sido muy útil para mí sirviendo a las familias con las que me reúno regularmente. Si no estuviera en contacto con mi origen hispano, si no estuviera en contacto con poder hablar, escribir y leer en español, entonces no me sentiría tan realizado en mi trabajo como me siento. Ha sido un honor servir a las familias a las que he podido servir, y realmente disfruto mi trabajo. Lo disfruto más de lo que nunca pensé que podría".